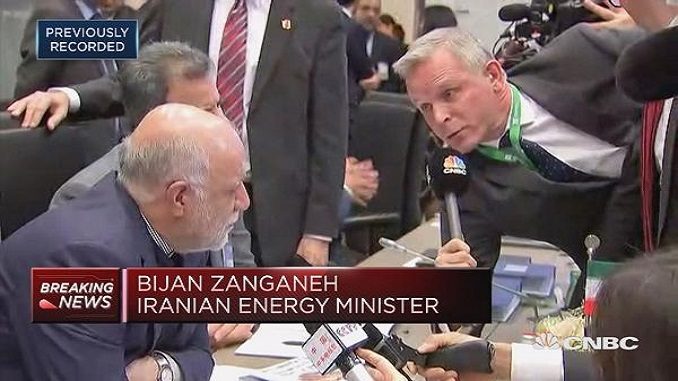 The Iranian oil minister claimed that energy-related firms from the U.S. are the main losers from the sanctions placed against his country, CNBC reports. Iran's oil-dominated economy has been hampered by sanctions put in place by the U.S. since the Iranian Revolution of 1979. In 2016, many restrictions were removed, but Washington has continued to bar American citizens and companies from most forms of investment or trade with the country.
Speaking at the OPEC meeting in Vienna Thursday, Iran's Oil Minister Bijan Zangeneh, said the policy was both confusing and self-defeating.
"I don't understand why U.S. companies cannot enter the Iranian market. They cannot get involved in the biggest oil projects in the world, taking place here in Iran," he said.
Zangeneh said Iran had "no difficulty" with U.S. expertise or capital and that his country needed billions of dollars of investment to complete several major projects designed to ramp up Iranian oil output. The OPEC veteran said the U.S. restrictions hadn't prevented companies from other nations signing up to invest.
"So far everything is going well. We hope we can sign some contracts before the end of this Iranian calendar year," he said.
Zangeneh said contracts for oil infrastructure development were typically around three years long and would not be greatly affected by any OPEC agreement made at the current meeting. Oil traders expect a group of OPEC and non-OPEC countries to announce Thursday that an agreed cap to supply levels will be extended by nine months, taking it until the end of 2018.
Meanwhile, Iran's oil minister has dismissed Trump's recent threats to remove Iran's oil export from the international markets. Bijan Namdar Zanganeh said "that Iranian oil supply to the market has currently reached up to 2.5 million barrels per day, and its removal from the oil market will have serious effects on the market."
Referring to the possibility of extending the Oil-Freeze Plan, he added "most OPEC members agree with the extension of the plan, but the final decision will be made at the OPEC meeting." The oil minister touched upon the issue of the fall in oil prices in recent days saying "the fall is not a matter of concern and it only shows that political tensions in the region are easing."
U.S. President issued a statement last Saturday, saying because there was enough supply of oil from other countries, it was possible to limit the purchase of oil and its derivatives from Iran. More than 60% of Iran's crude oil is shipped to Asian countries and about 40% to Europe.
Zangeneh also said oil exports to India were moving ahead normally despite claims that Indian refiners had cut purchases from Iran amid a standoff over development rights to a giant gas field in the Persian Gulf.
The Indians have been demanding special treatment on the offshore Farzad B gas field which they discovered in 2008, but Iran has refused to submit to the demands.
"The Indians are buying oil from Iran, and there is nothing special in this regard," Zangeneh said.
The U.S. has been looming large on the future of Iran's oil trade with India. Increased output from US shale producers has been a major bug-bear for traditional oil producers, hindering OPEC's ability to eliminate the supply overhang and limiting the market upside.