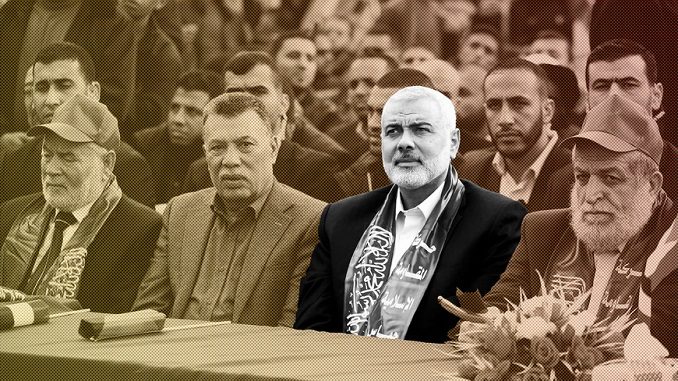 Ghanoon, an Iranian newspaper with ties to Iran's Reformists, attacked Hamas Jan. 21, publishing a photo of the movement's political chief Ismail Haniyeh holding the flag of the Syrian revolution. The newspaper presented Hamas' project and positions as no longer compatible with Iran's policy in the region. Khaled Kaddoumi, Hamas' representative in Iran, argued that relations between Hamas and Iran are strong and positive.
"They have an agreed-upon strategy to unite efforts to help Palestine. They also have a common enemy, the Zionist entity, to which they have always declared public hostility," he told Al-Monitor.
The newspaper lashed out at Hamas, describing it as a tool that is no longer useful and denouncing its ideological support of the Syrian revolution. It claimed the movement is ideologically close to the Islamic State, calling it "a treacherous movement that worships money."
"The newspaper article reflects an [internal] Iranian split over the relationship with Hamas. The two had mended their ties on Iranian terms. At the height of their political dispute over the Syrian revolution, Iran maintained its support for the movement's military wing. Although the Iranian authorities are on good terms with Hamas, the Iranian people and media seem to have a different take on this relationship. Hamas has failed to establish ties with the Iranian people," Fatima al-Samadi, a researcher at the Al-Jazeera Center for Studies specializing in Iranian affairs.
The article came after Haniyeh sent a letter to Iran's Supreme Leader Ayatollah Ali Khamenei Jan. 18 about the US decision on Jerusalem in December. Haniyeh stated that the United States wants to put an end to the Palestine cause and called for a popular uprising to foil the conspiracy against Palestine and Jerusalem. He also lauded Iran for its support in countering the U.S. project.
The Hamas leadership is seeking to convince its constituents that oppose relations with Iran of the need for rapprochement in light of the US and Israeli policies against the Palestinian cause. Hamas is also trying to convince them of its urgent need for the financial and military aid that Iran exclusively offers to the movement.
"No other country that is close to Hamas has expressed its readiness so far to provide the movement with what Tehran is currently offering," a Hamas spokesperson told Al-Monitor on condition of anonymity.
Israeli Chief of Staff Lt. Gen. Gadi Eizenkot announced Jan. 2 that Iran has increased its spending for Hamas and Palestinian Islamic Jihad to $100 million a year. In an interview with Al-Quds on Jan. 20, Mahmoud al-Zahar, a member of Hamas' political bureau, affirmed that relations with Iran had been restored and Hamas was seeking to promote them. However, a member of the Iranian Islamic Shura Council told Al-Monitor on condition of anonymity:
"There is no absolute consensus in Iran on supporting Hamas, amid declining interest by Iranian circles in the Palestinian issue. The priority is now on internal issues. The newspaper's attack on Hamas does not represent the official Iranian position toward Hamas, but exposes a muffled disagreement in some Iranian circles on the need to support Hamas in light of the economic crisis Tehran is battling."
In Ghanoon's article, Ismail Kothari, a former member of the Iranian parliament's National Security Committee, is quoted as saying that Hamas made strategic mistakes that it has yet to learn from.
Meanwhile, the Iranian Embassy's Charge d'Affaires Muhammad Sadiq al-Fadhli, representing Iranian Ambassador Mohammad Fathali, visited Mohammad Hamdan, a Hamas member who was injured during an assassination attempt in Beirut on Jan. 14. Speaking at a conference in Tehran on the defense of Al-Aqsa Mosque on Jan. 22, Ali Akbar Velayati, a senior adviser to Khamenei, noted that Hamas officials had told him the movement is counting on Iran to support the resistance.
"The article in Ghanoon reflects different Iranian views on supporting the Palestinian resistance. Some Iranian political parties have reservations about this support. They do not represent the official authorities. We keep hearing about increasing Iranian financial and military support to Hamas, but we also keep hearing Iranian voices objecting to this support. The head of the Islamic Revolutionary Guards and current Supreme Leader Ayatollah Khamenei have the final say. Iran's support for Hamas will not change unless there is a coup or a total change in the Iranian regime," Qassem Kassir, a Lebanese political analyst close to Iran, told Al-Monitor.
Iranian voices against Hamas, though few, come in tandem with statements by figures close to Hamas in the Gaza Strip and elsewhere who are not thrilled about the rapprochement with Iran but lack decision-making power. Their objections are not likely to undermine the strategic Iran-Hamas relations.
Hamas seems reassured that its relationship with Iran is stable, strategic and not governed by short-term and temporary interests such as defying the US political solution to the Palestinian cause. Therefore, one article or one newspaper is unlikely to affect the continuation of Iranian support for Hamas and undermine the strong ties between the two sides.
"The newspaper's article reveals an internal divergence of opinions on Iran's support for Hamas. In the past, the relationship between Hamas and Iran was more of a solid and comprehensive alliance, but today it is purely interest-based. In the future, we may see an escalated attack on Hamas by the Iranian media," Belal Shobaki, a professor of political science at Hebron University in the southern West Bank, told Al-Monitor.
Notably, the article slamming Hamas was published in direct response to Iranian efforts to develop the relationship. Hamas-Iran ties seem to be in a new strategic stage despite their divergent positions on regional developments. However, it also seems that the decision-makers in Iran today are inclined to support Hamas regardless of the opinions of the Iranian people. During the Iranian protests in late December, participants chanted, "Neither Gaza nor Lebanon … my soul is searching for the redemption of Iran."
The Ghanoon article has also stirred an uproar among Iranian academic and media circles that support Hamas. Iranian journalist Mohammad al-Ahwazi told Al-Monitor, "Iranian Reformists are attacking Hamas to confront Iran's conservatives. This could also be a message from circles close to President Hassan Rouhani to U.S. President Donald Trump that Tehran is moving toward cutting support for Hamas in a bid to maintain or salvage the [nuclear] deal signed in 2015."