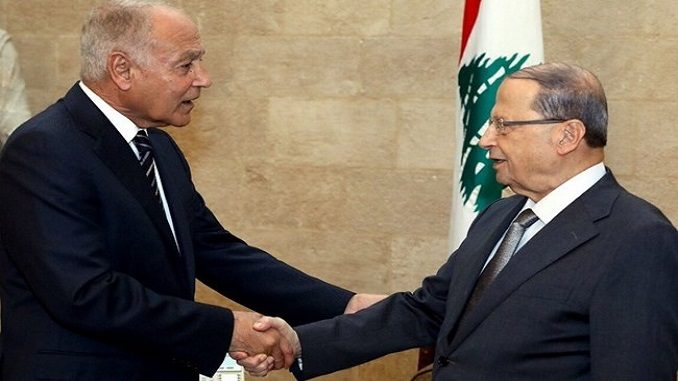 Arab League Secretary-General Ahmed Aboul Gheit said Monday that Lebanon will not be a battleground for clashes between Iran and Arab states, Lebanon's The Daily Star reports.
"This is certain. No one accuses the Lebanese government of terrorism, but one of its participating parties is accused of this," Aboul Gheit said after meeting Speaker Nabih Berri at his Ain al-Tineh residence.
Aboul Gheit's comments came one day after he presided over an emergency meeting of Arab foreign ministers that designated Hezbollah a terrorist organization. He said during the press conference following his meeting with Berri that Lebanon could exert pressure on "this party" to encourage it not to intervene in regional affairs.
In response to a question on Hezbollah being part of the resistance against Israel, the Egyptian diplomat said: "I come from a country that fought and confronted Israel. Whoever rejects Israeli injustice and aggression – I stand with him."
A statement from Berri's office reported that during the meeting, Aboul Gheit had mentioned "tens of resolutions issued by the Arab League in the past affirming Lebanon's right to resistance" against Israel.
Aboul Gheit earlier met with President Michel Aoun at the Baabda Palace around noon after visiting the United Nations Economic and Social Commission for Western Asia's headquarters in Beirut for the opening of its 23rd Regional Coordination Mechanism meeting.
Aboul Gheit said that his primary reason for coming to Lebanon had been to attend the ESCWA meeting, but that he could not come to the country without meeting Aoun or Speaker Nabih Berri. He also said the Arab League and Saudi Arabia specifically would likely take their grievances with Iran to the United Nations Security Council after an Iranian-made missile was reportedly launched from Yemen towards Riyadh on November 4.
"Article 51 of the Security Council's [charter] allows for dealing with the missile in the way they see fit … the way they chose is a diplomatic resolution," he said.
Aboul Gheit had earlier said the Arab League would likely hold further meetings to discuss regional issues.  The secretary-general presided over the emergency meeting of Arab foreign ministers in Cairo Sunday, which was called for by Saudi Arabia to discuss Iran's "violations" in the region.
Meanwhile, Iranian President Hassan Rouhani slammed the Arab League as old, worn out, exhausted and ineffective. Criticizing Sunday's meeting of Arab foreign ministers in Cairo, Rouhani said:
"At a time when the region's peoples have achieved a great success by uprooting Daesh, the foreign ministers of an organisation that is old, worn out, exhausted and ineffective named the Arab League meet and all their concern is to express regret because the Yemeni people have fired a missile against Riyadh in response to the Saudi daily crimes and bombing against Yemen."
Rouhani denied that the missile was Iranian and wondered about "the role of the Arab League when the Iraqi people were suffering from Daesh and when the Yemeni people were bombed, and when the Palestinian people are subjected to injustice."
During their meeting on Sunday, the Arab foreign ministers condemned "Iranian interference in the internal affairs of Arab countries."
The ministers called upon the Arab group in New York to contact President of the UN Security Council to clarify Iran's violations of UN Security Council resolution 2216 by supplying weapons to militias in Yemen and to consider the launching of an Iranian-made ballistic missile from Yemen towards Riyadh as an aggression by Iran and a threat to national and international security and peace.