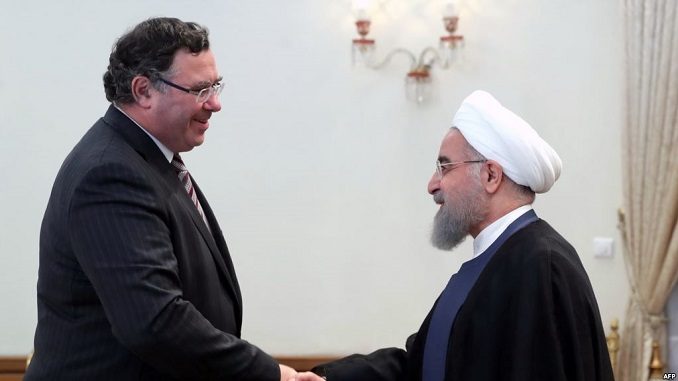 U.S. President Donald Trump's get-tough approach to Iran could kill a huge energy investment signed just four months ago. French oil and gas major Total would have to review its Iran gas project if the United States decided to impose unilateral sanctions on Tehran, given the company's assets in the U.S. market, its chief executive told CNN. Last month, U.S. President Donald Trump refused to formally certify that Iran was complying with the nuclear deal, defying both allies and adversaries. He warned that he might ultimately terminate the agreement. The U.S. Congress now has about a month to decide whether to reinstate sanctions.
"Either we can do the deal legally if there is a legal framework," Patrick Pouyanne said in remarks made to CNN Money Emerging Markets late on Monday. "If we cannot do that for legal reasons, because of change of regime of sanctions, then we have to revisit it."
Trump unveiled a tough and comprehensive new policy towards Iran last month. He accused Tehran of violating the nuclear accord, and announced that he would no longer certify that the lifting of sanctions was in U.S. interests. The agreement is now effectively in limbo while Congress decides how to respond, but Trump's strategy risks setting off a chain of events that ends up derailing the nuclear deal. Pouyanne's office confirmed the interview had taken place.
"If there is a sanctions regime [on Iran], we have to look at it carefully.We work in the U.S., we have assets in the U.S., we just acquired more assets in the U.S," Pouyanne said.
Total became the first Western oil major to sign an agreement with Iran to develop phase 11 of Iran's South Pars – the world's largest gas field. It also increased its U.S. presence on November 8 when it announced a deal to buy the liquefied natural gas (LNG) assets of energy group Engie, including its stake in the Cameron LNG project in Louisiana.
Iran has repeatedly said the Total/South Pars transaction demonstrated the success of the nuclear deal, hoping that other major western and Asian firms would sign agreements with Iran. However, given the fear of possible U.S. sanctions, western firms and major international banks have still shied away from the country. Pouyanne said that until the U.S. made its decision, it would push ahead with the South Pars deal, repeating that the company hoped for first contracts by January.
Losing Total would be a huge blow for Iran. Tehran needs foreign investment to develop its vast energy potential and it was recently touting projects worth $200 billion in the hope of attracting companies such as BP (BP), Russia's Gazprom (GZPFY) and Petronas of Malaysia.