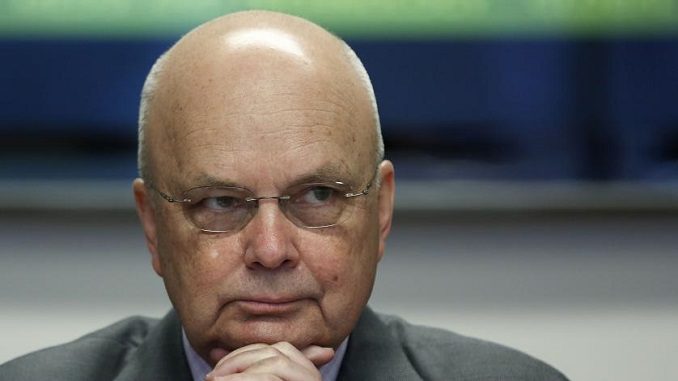 Israel should be allowed to buy bunker-buster bombs – with certain restrictions – to deter Iran, former CIA and NSA director Michael Hayden says as quoted by Asharq Al-Awsat.
"I've talked about that thought. I can imagine circumstances where the U.S. might want to take steps to convince Iran of its seriousness. Allowing Israel to purchase them [bunker-busters] in gradations, training on them, but keeping them here in the U.S.," he said in a recent interview in his Washington office.
In a worst-case scenario – to prevent Iran bringing out a nuclear weapon – giving Israel bunker-buster bombs could allow it to take out underground aspects of the program and perhaps deter Iran from trying to break out with such a weapon.
Hayden explained that Israel might otherwise "be more aggressive and pull us into something we do not want to be pulled into."
It is an acknowledgment by one of the U.S.'s top former intelligence officials, one who has sized up the threat of an Iranian nuclear weapon, post-nuclear deal, and who thinks that at some point the U.S. may want Israel to have an ability it thought too risky to provide until now.
On the other hand, the former CIA director still wanted to maintain a check on Israeli use, by not yet physically delivering the weapons to Israel, Jerusalem Post reports.
Meanwhile, Israeli Intelligence Minister Israel Katz said his country is willing to resort to military action to ensure Iran never acquires nuclear weapons. He spoke on Thursday in Japan where he is seeking backing for Trump's tougher line on Tehran.
"If international efforts led these days by US President Trump don't help stop Iran attaining nuclear capabilities, Israel will act militarily by itself," Katz said in an interview in Tokyo.
The minister said the nuclear deal signed between major powers and Iran in 2015 is bad and dangerous. But "there are changes that can be made (to the agreement) to ensure that they will never have the ability to have a nuclear weapon."
Also Thursday, Israeli Defense Minister Avigdor Lieberman said the country is facing huge challenges mainly the Iranian threat and its Shi'ite militias on the northeastern Israeli border.
The statements of the Israeli officials were a reflection of Trump's announcement on Oct. 13 that he would not certify Iran is complying with the nuclear deal.