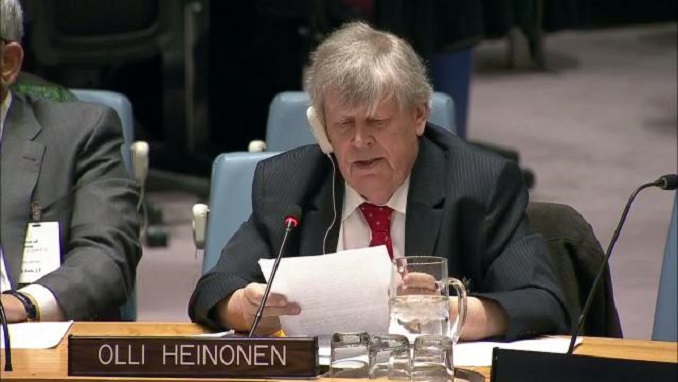 A former deputy director of the International Atomic Energy Agency (IAEA) raised questions about the credibility of that agency's inspection and verification system for Iran's nuclear program as required under the U.S.-brokered international nuclear accord with Tehran.
Olli Heinonen, former deputy director general of the IAEA and head of its Department of Safeguards, questioned how the IAEA can credibly inspect Iran's nuclear program without gaining access to Iranian military bases.
According to Heinonen, who made the comments last night on his talk radio program, "Aaron Klein Investigative Radio," broadcast on New York's AM 970 The Answer and NewsTalk 990 AM in Philadelphia, there is a special provision in the deal which asks the IAEA to monitor certain activities, so-called dual-use activities which can also be used for nuclear weapons purposes.
"IAEA has assessed that it has now verified that undertaking from Iran. So it is hard for me to understand how you can verify that undertaking without visiting a military site and this is the most puzzling thing. And it goes to the credibility of the verification system.  How can the IAEA conclude that there have been no undeclared activities highlighted in JCPOA in those locations? This needs to be clarified and explained by the IAEA," Heinonen says.
Last week, Ali Shamkhani, Secretary of Iran's Supreme National Security Council, ruled out any possibility of international access to Iran's military bases, declaring the issue an "unnecessary and closed case."
"The calls for inspection of Iran's military sites are part of a propaganda campaign run by the U.S. media in order to help Washington refrain from fulfilling its obligations and duties under the 2015 nuclear deal, known as the Joint Comprehensive Plan of Action (JCPOA)," he noted.
Also last week, Haaretz cited Israeli officials revealing that a "Western entity" provided the IAEA last year with information regarding sites that Iran did not officially report as part of its nuclear program and where Tehran is suspected of carrying out activities related to nuclear capabilities, including research and development. While one such alleged site was a civilian facility, the report stated that Iran did not allow access to other sites, claiming they were military bases.
"Iranians refused to allow inspectors to visit a series of other suspicious sites, claiming they were military bases and, therefore, not covered by the nuclear accord and that they were not required to allow access to inspectors," Haaretz reported.
Last month, the U.S. ambassador to the UN, Nikki Haley, travelled to Vienna to press the UN nuclear chief on her reading of Iran's compliance with the JCPOA and asked if the IAEA planned to inspect Iranian military sites, something she has called for.