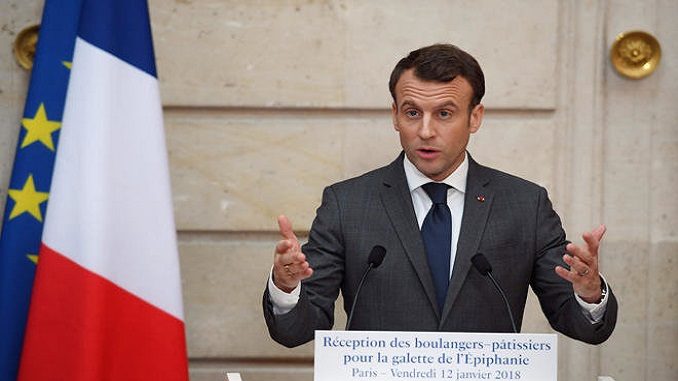 French President Emmanuel Macron on Saturday called for the "necessary respect" of Iran's nuclear deal with world powers after Israeli Prime Minister Benjamin Netanyahu urged the French leader to change the landmark accord, Arab News reports. A statement from the Elysee said Macron "remembers the importance of preserving the Iran nuclear deal and the necessary respect by all parties of their engagements regarding the accord."
"The president spoke of the importance of preserving the Iran nuclear deal, and the necessity for all parties to the agreement to respect the commitments they made," the Elysee statement said.
Macron and Netanyahu spoke by phone on Saturday after U.S. President Donald Trump demanded that European partners work with Washington to "fix the deal's disastrous flaws, or the United States will withdraw." Macron says he wants an "uncompromising" dialogue with Iran about its ballistic missile program and he told Netanyahu that efforts concerning Iranian ballistics as well as its regional activities should continue.
In his conversation with Macron, the Israeli premier said that "Trump's remarks should be taken seriously, and whoever wants to keep the nuclear deal would be wise to fix it," a statement from Netanyahu's office read.
The statement was a rebuff for Netanyahu, who also told Macron the free world should "strongly condemn the five crimes of the Iranian regime," listing "efforts to obtain nuclear weapons… developing ballistic missiles… supporting terror… regional aggression" and "the cruel repression of Iranian citizens."
On Thursday, Macron told Trump that it was important for all signatories to respect the Iran nuclear agreement. As Trump consulted national security advisers on whether to reimpose sanctions on Iran and sink the 2015 deal, Macron stressed "the importance of all the signatories to respect it" and called for its "strict application", a statement by the Elysée presidential palace said.
Macron said the deal's application should be "accompanied by stronger dialogue with Iran on its ballistic programme and its regional policy, so as to guarantee better security in the Middle East".
Tehran has rejected the notion of any modification of the 2015 nuclear deal and has the backing of all of the partners to the agreement — Britain, China, France, Germany, Russia and the European Union — apart from the U.S.
Israel says Iran is dedicated to its destruction and supports global terror, in addition to backing Palestinian militants Hamas and Islamic Jihad and Lebanon's Shiite Hezbollah.
On Sunday, Iran's president said the U.S. had failed to undermine a nuclear deal between Tehran and major powers, and hailed the accord as a "long-lasting victory" for Iran, state television reported.
"The American administration has failed to undermine the nuclear deal … Trump, despite his repeated efforts, has failed to undermine the accord … The deal is a long-lasting victory for Iran," President Hassan Rouhani said in a speech, broadcast live on state TV.