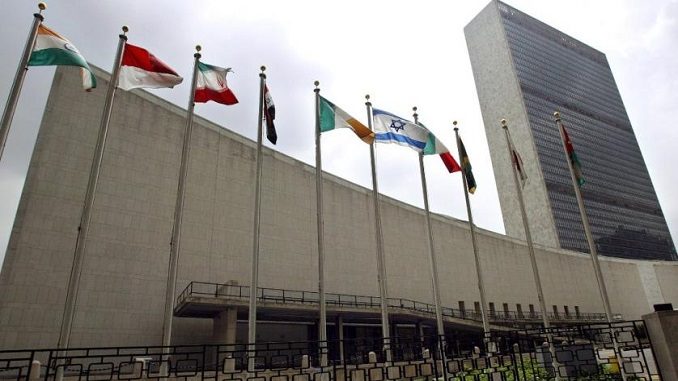 Human rights organizations have organized a protest near the United Nations headquarters in New York to denounce Iran's aggressive human rights practices, calling on the international community to support their efforts by imposing sanctions on Tehran, Asharq al-Awsat reports.
As New York City shivered under sub-zero temperatures, hundreds of Arabs, Iranians and Americans joined the rally organized by the Arab-American International Center for Human Rights and the U.S. Organization for Justice and Peace.  Demonstrators raised banners demanding the punishment of the Iranian regime for its human rights violations and absurd behavior in Middle Eastern countries.
The protest was aimed at putting the spotlight on "the violations of the Iranian regime and its support for terrorism," Deputy Secretary-General of the Arab-American Center for Human Rights Meshary al-Aida told Asharq Al-Awsat.
Aida pointed out that the protest was held under the slogan "Stop the terror of the Iranian regime, its violations of human rights and its intervention in the affairs of countries."
"It coincided with global celebrations of the International Day of Human Rights. During the rally a magazine was distributed to reveal the crimes of Iranian terrorism around the world and its violations and intervention in the Middle East and neighboring countries," Aida said, noting that the rally aimed to draw the attention of the international community and the United States to the crimes of terrorism and violations carried out by the Iranian regime in Iran and abroad.
He explained that the magazine included the number of executions carried out by Iran against men, women and children over the past 10 years and the names of some militias and armed terrorist groups that were founded and supported by Iran and were the reason behind the displacement and killing of thousands of women, children and helpless people in Syria and Yemen.
In this context, the U.S. Foundation for Defense of Democracies issued a statement on Wednesday urging U.S. President Donald Trump to support UN efforts in its celebrations on World Human Rights Day by imposing additional sanctions on the Iranian regime.