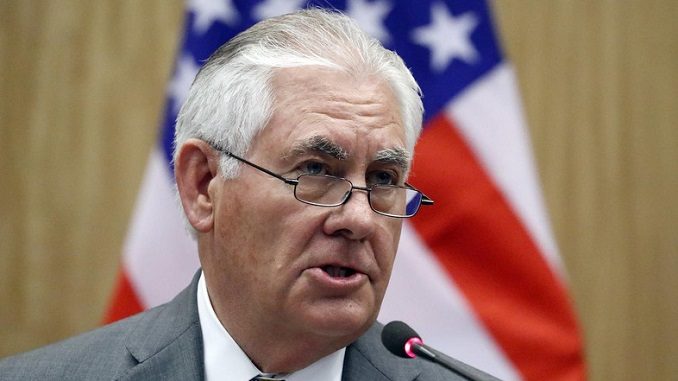 U.S. Secretary of State Rex Tillerson said the United States is working with its allies and its European partners to counter Iran's destructive and destabilizing policies in the region and its support with weapons to terrorist organizations in the region, Al Arabiya reports.
"What worries us most is the ballistic missile programs, destabilizing Yemen and exporting weapons to terrorist organizations such as Hezbollah and Hamas foreign fighters in Iraq and Syria. Iran is only aiming to destabilize the region, and many of these conflicts are ongoing because of Iran's involvement. Together with our partners in the region and in Europe, we want to hold Iran accountable for its actions," Tillerson said in remarks published on the State Department website.
According to Tillerson, to that end, "we have taken unilateral action on our own to impose sanctions on certain Iranian individuals and entities responsible for such activities while at the same time maintaining our commitments under the Comprehensive Nuclear Action Plan."
"Our European partners have the same concerns about Iranian activities. Last week, when I was in Europe, we held a meeting with our European counterparts in the Comprehensive Action Plan – the Quartet – to talk more about how we could work together to achieve a more stable situation in the Middle East, and that the Iran situation is a big dilemma that we must address together. "
He stressed that there were "weak points" in the nuclear agreement, and therefore should be reviewed. He pointed out that America's policy towards Iran was very limited and focused only on the nuclear agreement, while the rest of the issues related to Iran were neglected.
The U.S. Congress is considering a bill to impose new sanctions on Iran for its destructive role in Yemen and its policies to destabilize the country by supporting Houthi militias and supplying them with weapons.
According to The Hill news portal, which covers congressional news, the project was prepared by Republican Rep. Elena Rose Lehtinen of Florida and Ted Poe of Texas, senior members of the House of Foreign Affairs Committee, to punish Iran for supporting the Houthi rebels in Yemen and for sending Revolutionary Guards and weapons to the Houthis.
"It is necessary to hold the Iranians accountable for their involvement in the unrest and the ongoing war in Yemen," Ted Bo said in a statement.
The bill sends a clear message to Tehran that it can either halt its activities or go with the option of facing sanctions.  The bill comes ahead of the House of Representatives debate on a two-bill vote on Iran this week, as the Treasury Department is due to report on how to review U.S. sanctions to prevent Iranian officials from using funds to develop ballistic missile technology as well as stop financial transactions related to commercial aircraft sales to Iran.
Last October, the House of Representatives passed legislation to expand sanctions on Iran for developing ballistic missiles and supporting Hezbollah militants. The new sanctions came weeks after U.S. President Donald Trump refused to ratify Iran's compliance with the nuclear deal, giving Congress 60 days to reinstate sanctions, some of which were lifted under the deal.