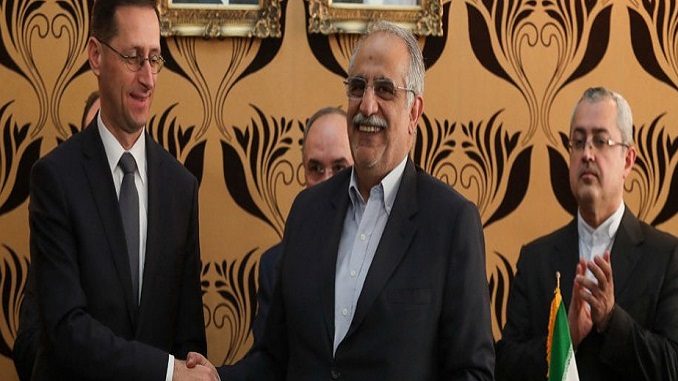 Hungary's economic presence in Iran is expanding, the Hungarian daily Politics quoted Economy Minister Mihaly Varga as saying.
"Oil minister Bijan Zanganeh expressed interest in strengthening cooperation between the two countries' oil and energy companies, Varga told MTI by phone.
Cooperation in the sector is ongoing, he said, noting that Hungarian oil and gas company MOL last year purchased crude oil from Iran. Zanganeh urged Hungary to maintain its presence in the sector in Iran.
Hungarian companies will also have the opportunity to bid in 50 Iranian industrial tenders as well as to participate in upgrading power plant equipment. Tehran also expressed interest studying Hungarian government measures aimed at boosting employment. They also signed an investment protection agreement, he added.
The Iranian government has expressed interest in boosting bilateral ties in the fields of finance, energy, mining and food, he said after talks with Iranian ministers in Tehran. Iran's Minister of Industries, Mining and Trade Mohammad Shariatmadari has identified potential areas of cooperation as medical equipment, food and paper industries. Senior Iranian and Hungarian officials signed a memorandum of understanding to encourage and support investment by the two countries' private sectors. The MoU was signed by Iranian Economy Minister Masoud Karbasian and Varga in Tehran on Monday afternoon.
Meanwhile, a joint venture contract and investment in the field of agriculture and agro-industry was signed between Hungarian LAC Holding and Iranian Nika Basir Payam, Fars News Agency reported.
Karbasian said on the sidelines of the signing ceremony that "these agreements will help [promote] investment climate between the two countries and in view of the Hungarian membership in European Union, it will reduce the risk of investment".
According to Shariatmadari, Iran-Hungary trade is estimated to reach $100 million by the end of the current Iranian year (March 20, 2018).
"Last year, trade between the two countries increased by 100%," he was quoted as saying in a meeting with Varga on Monday.
According to Varga, bilateral trade experienced a twofold increase since the nuclear deal officially known as the Joint Comprehensive Plan of Action was signed between Iran and the world powers in 2015. On the sidelines of a meeting with Oil Minister Bijan Namdar Zanganeh on Monday, Varga said Hungary is keen to purchase more oil from Tehran.
Four memorandums of understanding were signed between Iranian and Hungarian businesses. The first was between Hungarian Enexio Company, Iranian Behin Saman Company and Thermal Power Plants Holding Company to manufacture hybrid cooling systems.
Next was Evoporo that signed and MoU in the field of electric vehicles with Iran's Gijin company. Eveporo signed another agreement with the Iranian company Pishro Diesel in the field of electric rail equipment.  The fourth agreement pertained to the manufacture of 1,000 buses, which was signed between the Hungarian Ikarus and Iran's City Industries and Mines Development Group, a subsidiary of Shahr Bank.
Meanwhile, Iranian Foreign Minister Mohammad Javad Zarif in a meeting with Vice-Speaker of the Hungarian National Assembly István Jakab called for enhancement of banking ties between Tehran and Budapest.
"Expansion of banking ties between Iran and Hungary will prepare the grounds for fostering cooperation in other areas as well," Zarif said.
He underlined that Iran has maintained good relations with Hungary in recent years, and said, "The two nations have a long history of bilateral ties. Jakab, for his part, called for strengthening mutual cooperation in various areas. He said that his country is willing to widen parliamentary and economic ties with Iran. In relevant remarks earlier in May, Hungarian Deputy Prime Minister Zsolt Semjén in a meeting with Iranian Ambassador to Hungary Gholamali Rajabi Yazdi called for the expansion of bilateral ties.
"I hope that banking relations between the Iranian banks and their Hungarian counterparts will boost trade exchanges between the two countries," Semjén said during the meeting in Budapest.
The Hungarian deputy prime minister called for the enhancement of cooperation between the Iranian and Hungarian cities within sisterhood framework.