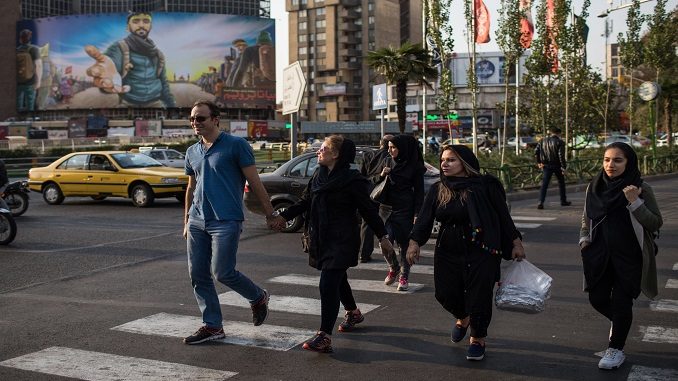 They call each other meddlers, warmongers, religious hypocrites, zealots and sponsors of terrorism. Now Iran and Saudi Arabia, the archrivals of the Middle East, are competing in a surprising new category: gender equality. They appear to be vying over who can be quicker to overhaul their repressive rules for women, The New York Times reports.
Tehran's police chief announced this week that the so-called morality police who patrol the capital would no longer automatically detain and punish women seen without the proper hijab head-covering in public, an offense commonly called "bad hijab." They will be given counseling instead.
For nearly 40 years, women in Iran have been forced to cover their hair and wear long, loose garments. Younger and more liberal-minded women have long pushed the boundaries of the official dress code, wearing loose headscarves that do not fully cover their hair and painting their nails, drawing the ire of conservatives.
The announcement signalled an easing of punishments for violating the country's conservative dress code, as called for by the reform-minded Iranians who helped re-elect President Hassan Rouhani, a relative moderate, earlier this year. But hard-liners opposed to easing such rules still dominate Iran's security forces and judiciary, so it was unclear whether the change would be fully implemented.
In Saudi Arabia, one of the most restrictive countries for women, the authorities this week allowed female contestants at an international chess tournament to play without the full-body garb known as an abaya. That decision is the latest in a string of liberalizing moves by Crown Prince Mohammed bin Salman, the young Saudi ruler, which includes letting women drive.
Shocking the kingdom, one of the most repressive countries for women in the world, the young Crown Prince Mohammed bin Salman announced a tranche of liberalising changes. In 2018, women will also be allowed to attend sporting matches in national stadiums, where they were previously banned.
Designated "family sections" will ensure women are separate from male-only quarters of the stadiums. The crown prince tested public reaction to the move when he allowed women and families into the capital's main stadium for National Day celebrations this year.
Saudi Arabia and Iran are on opposite sides in many ways — in their divergent branches of Islam, the wars in Syria and Yemen, Lebanese politics and relations with the United States, for example. They have clashed over oil production, religious pilgrimages and who is a terrorist. But both countries are responding to domestic and international pressure over women's rights.
It is unclear whether the changes in Saudi Arabia have led directly to the unintended impact of changes in Iran. But some women's rights advocates have seen a connection.
Roya Hakakian, an Iranian-American poet and journalist who co-founded the Iran Human Rights Documentation Center in New Haven, Conn., wrote in an opinion column published on Wednesday in The New York Times that women in Iran and Saudi Arabia had benefited from "competition between the two regimes to earn the mantle of the modern moderate Islamic alternative."
She quoted Mariam Memarsadeghi, a co-founder of Tavaana, a civil education website about Iran, who now lives in the United States, as saying that she was not only happy for Saudi women, but "thrilled that the Iranian regime's false moral superiority is punctured, that the Iranian regime's laws and actions against women's rights are made to look backward even by a country long seen as the region's most backward."
What women are permitted to wear outside, another issue in Saudi Arabia, is hardly a question in many countries.
"I am sorry to say, we are in 2017 and we are still talking about wearing and not wearing. We're hoping that what is going on in Saudi Arabia will be continuing," said Suad Abu-Dayyeh, a Palestinian who is the Middle East and North Africa consultant for Equality Now, a global women's advocacy group.
While she was cautious about concluding that the changes in Iran were related to the Saudi relaxation, she said each was obviously watching the other.
"Any advancement in any country will really affect the situation in the neighboring countries. It will have perhaps an indirect effect on Iran to advance women's rights, because they don't want to be seen as an oppressive government to women's rights, especially in front of the international community," she said.