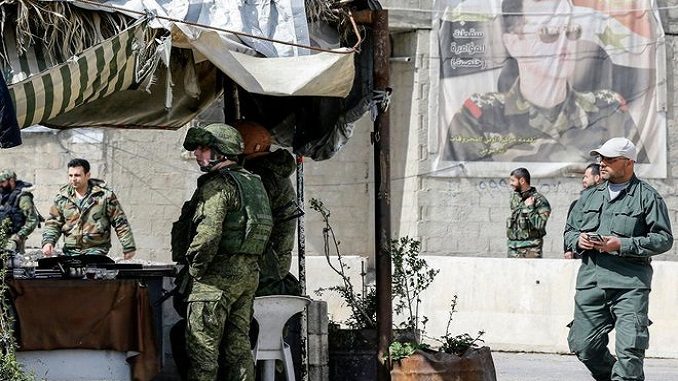 Iran has strengthened its hand in Syria through proxy militias, which could cause further chaos and be difficult to dislodge when the war ends, Arab News reports.
In a panel discussion on Regime Area Dynamics on Thursday, Sinan Hatahet, a senior associate fellow at Al Sharq Forum & Omran for Strategic Studies, said there would be "new dynamics kicking in'' when the fighting comes to an end with "a myriad of small conflicts that will emerge throughout the country.''
The discussion, which took place during a conference on Demystifying the Syrian Conflict at Chatham House on Thursday, highlighted the influence militias have on the ground in Syria, where the situation is "hugely complex'' Hatahet said.
Assad's attempts to plug major gaps in the military manpower of the Syrian army by recruiting Iranian and Russian-sponsored fighters has led to a huge surplus of foreign fighters on the ground and Hatahet said there is "huge doubt" over the government's capacity to control these groups down the line.
Iran is consolidating its position in the suburbs surrounding Damascus, "to create a belt around the area so they can control it better, Hatahet said.
Wael Sawah, Editor-in-chief of The Syrian Observer, an independent news website, said the "Syrian regime is in a state of self-defense'' as it tries to play off competing for Russian and Iranian interests. Chairing the discussion, Lina Sinjab, Middle East correspondent for the BBC, highlighted the ''impression among many that the Iranians are trying to change the demography in Syria.''
Previously this month, U.S. Secretary of State Rex Tillerson called for Iranian-backed militias to withdraw from Syria after meeting with opposition negotiators from the war-torn nation during a visit to Jordan. Washington's lead diplomat said the U.S. was "quite concerned" by a recent confrontation that saw ally Israel bomb what it described as Iranian targets in Syria.
"This again illustrates why Iran's presence in Syria is only destabilizing to the region. We think Iran needs to withdraw its military, its militia from Syria, and allow the hope for the peace process to take hold," Tillerson said at a press conference with his Jordanian counterpart.
U.S. foe Iran and regional militias it backs, including Lebanon's Hezbollah, have played a key role in propping up leader Bashar al-Assad, heightening fears over Tehran's spreading influence. Tillerson – who is on a tour of the Middle East – held closed-door talks with Syrian opposition negotiators in Amman in the wake of a January peace summit hosted by regime backer Russia.
The opposition and Kurdish groups had boycotted the Congress, held just days after a ninth round of United Nations-led talks in Vienna failed to yield progress towards ending Syria's devastating conflict. The West views Russia's Syria peace efforts with suspicion, concerned that Moscow is seeking to sideline the UN process.