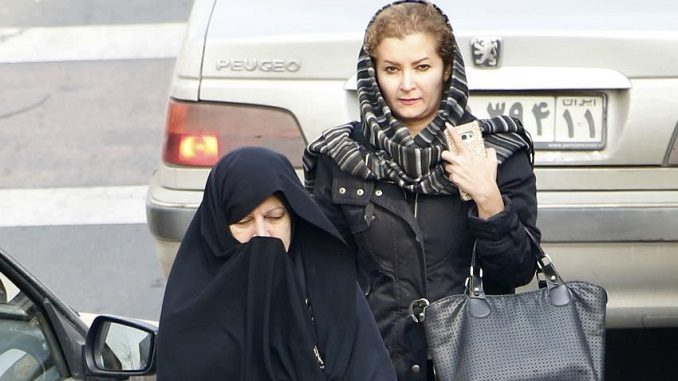 Iran's vice president for women's affairs insisted on Wednesday the government opposed using "force" to ensure women wear the hijab, after a spate of protests stirred debate over the mandatory headscarf, The New Arab reports. Massoumeh Ebtekar told a press conference in Tehran that every country has a dress code.
"There is no city in the world where you can walk naked in the streets and you won't be approached by a particular regulatory body."
She said Iran's hijab laws – which require women to wear a headscarf and long coat, as well as banning shorts for men – were a "social regulation".
"Our position is that it's a regulation but the use of force – we don't go along with that type of enforcement. That is contrary to the basic principles and philosophy that the government of (President Hassan) Rouhani follows," she said.
Her comments follow a string of protests, mostly in Tehran, in which more than a dozen woman have stood in main thoroughfares without their headscarves. The women risk prison sentences of up to two months for not wearing the headscarf, but up to 10 years if they are found to be encouraging others.
Tehran police chief Hossein Rahimi took a rather tougher line than Ebtekar earlier this week, telling the conservative Fars news agency that Islamic laws were "obligatory for all citizens".
"These people will be firmly dealt with by the police," he said.
He was responding to widespread criticism on social media after a video showed an officer shoving one of the women protesters off a plinth.
"We have reminded our officers to comply with legal requirements when dealing with all people," said Rahimi.
In practice, clothing rules have been steadily eroding for years, with many women wearing loose and colorful headscarves and letting them drop entirely, particularly in wealthier areas. Since Rouhani came to power in 2013, the presence of the morality police who enforced clothing rules has been greatly reduced.
Ebtekar said the government needs "this dialogue" with the younger generation, which no longer shares the same values as those who grew up during the 1979 revolution. But she defended Iran's record on female empowerment, saying the Islamic republic had brought "true advancement" for women in higher education, politics, and sports.
Iranian society is generally freer for women than many conservative Islamic countries, but activists complain they are still under-represented in government, particularly after Rouhani again failed to appoint a single female minister last summer. Women also have less weight than men in Iran's Islamic legal system, including less right to inheritance and a ban on leaving the country without male permission.
Previously last week, Iran's Interior Ministry chided police for using force against a woman protesting the mandatory headscarf, a rare conciliatory gesture toward women challenging a primary tenet of the Islamic Republic's belief system.
"Dealing with infractions should be with full respect of moral and legal rules. No one has a license to act against the law even in the role of an officer dealing with crimes," Interior Ministry spokesman Salman Samani said Sunday, according to the official Islamic Republic News Agency.
His comments are the latest expression of officials' growing sensitivity to undercurrents of discontent in Iranian society since anti-government protests erupted late last year. They also reflect the showdown between Iranian President Hassan Rouhani, who has criticized strict social norms and the policing of Iranian youth, and some hardline opponents who argue that easing lifestyle rules could erode the foundations of a pious society.
NCRI Women's Committee also vehemently condemns brutalizing and arrest of women protesting the compulsory veil calls for urgent action to secure their release. Violent attacks on women who protest against the compulsory veil have continued in recent days, by the clerical regime's forces' beating and arresting the protesters.
The NCRI Women's Committee calls on fellow Iranians, particularly the youth and women, to counter the mullahs' revolutionary guards and security forces and do not allow them to arrest the protesting women. According to reports, the arrested women continue to be harassed and mistreated in detention centers. Those who are wounded or have suffered broken bones are denied medical treatment.
The Women's Committee of the National Council of Resistance of Iran urges international bodies defending human rights and women's rights to condemn the clerical regime's misogynist practices and take urgent action to secure the release of those women who have been arrested for improper veiling or dropping the veil, and for protesting the compulsory veiling.
On January 24, 2018, at a meeting of the Council of Europe in Strasbourg, the President-elect of the National Council of Resistance of Iran, Maryam Rajavi, called on the International Community to adopt effective measures to compel Iran's ruling religious fascism to end suppression of women and abolish the compulsory veil. She said that thirty-nine years of discrimination against and suppression of women is enough. The International Community must end its silence and inaction.