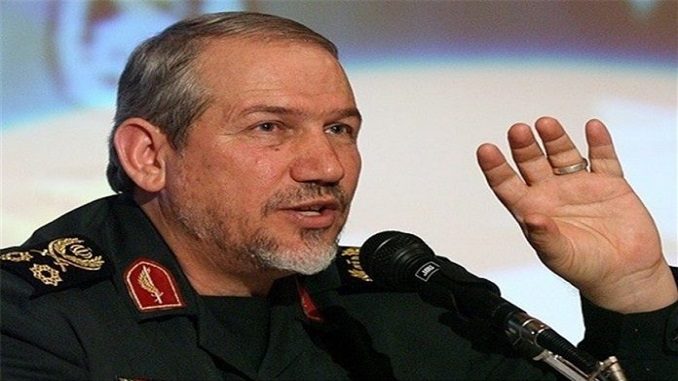 A top military aide to Leader of the Islamic Revolution Ayatollah Seyed Ali Khamenei said that Iran should build an anti-terrorism coalition with Pakistan and Iraq to counter U.S. threats against the Middle East, Iran Front Page reports.
Speaking to the Islamic Republic of Iran Broadcasting (IRIB) on Monday night, Major General Yahya Rahim Safavi highlighted the U.S. threats against the region and said Washington created the Daesh terrorist group. He added that Saudi Arabia, the United Arab Emirates (UAE) and even Qatar provided financial and arms support for the terror group and Turkey and Jordan provided training for terrorists.
However, the commander said, the Daesh collapsed and the U.S. faced failure in its plots to undermine the anti-Israeli Axis of Resistance. He further emphasized that the U.S. is seeking to fan the flames of conflicts in the West Asia region to serve its political, economic and military interests.
Major General Rahim Safavi said Iran plans to stand against the U.S.-led coalition and terrorist groups in the region through forming a coalition with Pakistan and Iraq. The self-proclaimed caliphate of Daesh collapsed in Syria and Iraq after Syrian forces and their allies managed to recapture Al-Bukamal, the terror group's last stronghold.
In recent years, the Middle East region has been plagued with Takfiri terrorist groups like Daesh, which are believed to have been created and supported by the West and some regional Arab countries. The terrorist groups, which claim to be Islamic but whose actions are anything but, have been committing heinous crimes not only against non-Muslims but mostly against Muslims in the region.
Iraq and Syria are among the countries gripped by terrorism. Iran, a close ally of the two countries, has supported their legitimate governments in their campaign against foreign-backed militancy and terrorism.
Previously last year, Iran has called on China and Pakistan to join a counter-terrorism campaign which it is spearheading jointly with Russia and Turkey, saying the coalition is an alternative to the one led by the U.S. which has caused a "security mess". Iranian Parliament Speaker Ali Larijani made the appeal during a three-day conference on terrorism in Islamabad with the participation of his counterparts from Pakistan, Russia, China, Turkey, and Afghanistan.
"We need to strengthen alliances like the one between Iran, Russia, and Turkey because these meetings can play a role in this regard, and if China and Pakistan also help us in this matter, we will certainly succeed," he said.
Larijani said the U.S.-led coalition was supposed to eliminate terrorism in Afghanistan and stem the production and smuggling of narcotics, but it has not made any headway in either field. On the contrary, "the fight that Iran, Russia, and Turkey have had in Syria has been successful given the blows which it has dealt with Daesh," the speaker added.  Larijani mocked President Donald Trump's claims that the U.S. and its allies "crushed … (Daesh) terrorists on the battlefields of Syria and Iraq, and will continue pursuing them until they are destroyed."
"You were the ones who created Daesh. How are you now claiming to fight terrorism? This is a funny claim," he said, referring to Trump's remarks while unveiling U.S. National Security Strategy earlier this month.
The American strategy in the region has led to a "security mess", Larijani said, adding the U.S. is after a "new adventurism" through its decision to declare Jerusalem al-Quds as the so-called capital of Israel.
"What motivations did the Americans have in their plan to move their embassy to al-Quds? Everyone saw that the whole world reacted to this decision," he said.
Larijani said the U.S. today has turned into "a symbol of an evil state."
"The issue of terrorism in Iraq and Syria has not been resolved yet and the Americans have stirred the issue of Palestine. The people of the world and the Palestinians will certainly not remain silent on this measure and start a new intifada."