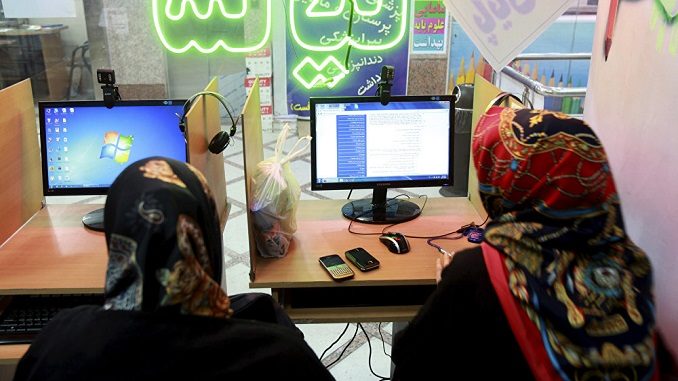 In July 2014, Iranian intelligence agents raided the home of reporters Jason Rezaian and Yehaneh Salehi, searched their belongings and forced them to provide passwords to their emails and social media accounts. The raid demonstrated how threatened Iran is by the internet. The government has worked hard to control the internet and the flow of information to the public, The Voice of America reports.
Almost half of the population in Iran has smartphones and such smartphones helped spread protests across the country. The authorities contained the activities by shutting down important social media and messaging applications, but it was clear that the technology that can aid business, can also support anti-government activism and the government decided to create a separate internet – the so-called ''halal net,'' which is a locally controlled version of the internet aimed at restricting the flow of information.
Halal net is officially known as the National Information Network and has some 500 government-approved national websites. They stream content much faster than those based outside of Iran. According to a recent report by the Campaign for Human Rights in Iran, that happens partly because Iran slows those. Using only the NIN websites is also cheaper. The telecommunications company that built NIN is owned by Iran's Revolutionary Guard.
According to Sanam Vakil, an Iran researcher at Chatham House, a non-profit policy organization, the Iranian government has taken the internet and effectively used it for its own purposes and has realized the dangers of it.
The Voice of America reminds that the spread of information in Iran has been tightly controlled since the 1979 Islamic Revolution. State-run media provides the only television and radio broadcasts. Satellite television equipment is banned even though many people use it anyway. The government dictates what the press can cover and where reporters can travel. But the internet changed everything and helped spread news about protests of the re-election od President Mahmoud Ahmadinejad and other developments.
Current President Hasan Rouhani is partly responsible for the explosive growth in smartphones among Iranians because his administration has permitted more mobile phone service providers to offer 3G and 4G internet.
The encrypted messaging platform Telegram was widely used during the recent protests. When the government temporarily blocked Telegram and Instagram, it helped end the protests within, but that caused problems for the many businesspeople.