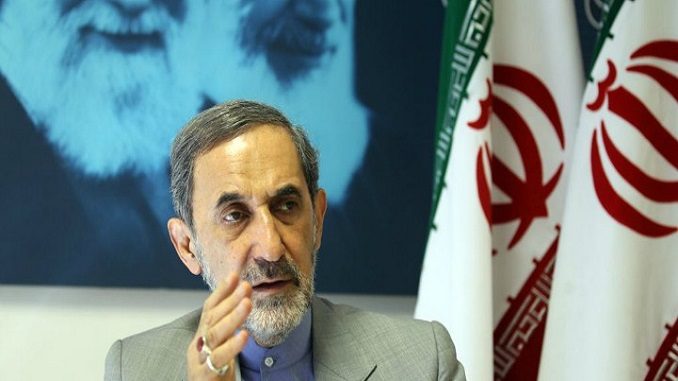 A senior Iranian official said on Wednesday that Iran's military presence in Syria was legitimate and based on the invitation of Damascus, and called on U.S. forces to leave the country, Mehr News reports. He made the remarks on the sidelines of a ceremony at Azad University after some westerners called for Iran's withdrawal from Syria.
Reacting to U.S. Secretary of State Rex Tillerson, who said on Wednesday that Iran needed to withdraw its military forces from Syria, Ali Akbar Velayati, the Head of the Strategic Research Center of Iran's Expediency Council and top aide to Iran's Supreme Leader, stated:
"Iran's military presence in Syria was based on invitation of the Syrian government. Those should leave Syria who are there without the permission of the Syrian legal government," Velayati was quoted as saying by ISNA, answering a question about Tillerson's comments.
U.S. Secretary of State Rex Tillerson on Wednesday called for Iranian-backed militias to withdraw from Syria after meeting with opposition negotiators from the war-torn nation during a visit to Jordan. Washington's lead diplomat said the U.S. was "quite concerned" by a recent confrontation that saw an Iranian drone infiltrate Israeli airspace before being shot down by Israel, and drew heavy reprisal strikes from the Jewish state.
Israel has also demanded Iran-backed fighters leave Syria, warning the world of the Islamic Republic's growing military entrenchment in the country.
"This again illustrates why Iran's presence in Syria is only destabilizing to the region. We think Iran needs to withdraw its military, its militia from Syria, and allow the hope for peace process to take hold," Tillerson said at a press conference with his Jordanian counterpart.
Iran and Russia have repeatedly called the international community to pay respect to the national sovereignty and territorial integrity of Syria which both have been undermined by interventions from Saudi Arabia, U.S., Zionist regime, and some other countries which opposed Assad's alignment with Iran. The foreign meddlers funded the terrorists in Syria to topple the Syrian government.
During a telephone conversation last week, Iranian President Hassan Rouhani and Russian President Vladimir Putin expressed the opposition of their respective countries to the presence of foreign forces in Syria without the consent of the Syrian government and nation.
Meanwhile, Iranian Foreign Ministry Spokesman Bahram Qassemi has dismissed the groundless allegations raised by U.S. National Intelligence Director Dan Coats about the danger of Iran's regional influence.
In a Thursday statement, Qassemi slammed as "worn-out" and "baseless" the claims raised by Coats about the U.S. concerns over Iran's influence in the region, adding that no country has tried as much as Iran did to ensure stability and peace in the Middle East.
"Such remarks [by American officials] are rooted in the U.S. policy and approach of creating and promoting false and self-fabricated threats and terror in different parts of the world, particularly in the Middle East. This is a profitable policy for Washington and a destabilizing one for the world and West Asia," Qassemi noted, stressing that understanding and confronting such a policy requires the farsightedness and vigilance of all regional leaders and nations.
The Iranian spokesman's statement came after Coats framed global cyber-security threats in stark terms on Tuesday, saying, "Russia, China, Iran and North Korea pose the greatest global cyber-threats."