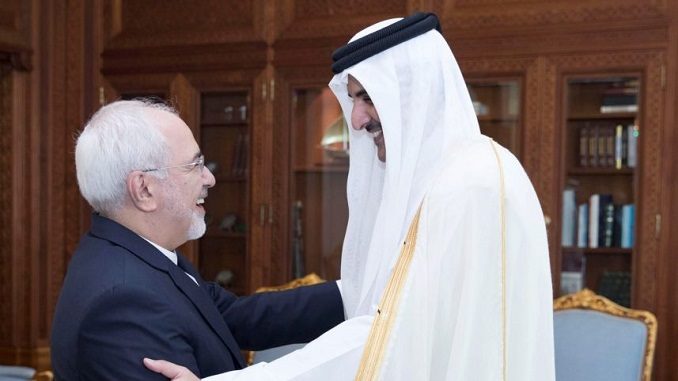 Iran's foreign minister on Tuesday met with Qatar's ruling emir as a quartet of Arab states continues its boycott of the energy-rich nation, in part over relations that Doha maintains with Tehran, Haaretz reports.
Mohammad Javad Zarif's visit is likely to further inflame officials in Bahrain, Egypt, Saudi Arabia and the United Arab Emirates, which began their boycott nearly four months ago, on June 5.
It also comes as a new academic survey published this week suggests that the average citizens in the Arab nations of the now-fractured Gulf Cooperation Council do not see Iran as an existential threat in the same way their leaders do.
Zarif was welcomed in Doha by the Emir of Qatar, Sheikh Tamim Bin Hamad al-Thani,  with whom he discussed cooperative relations between Qatar and Iran.
According to Qatar's News Agency, "the meeting demonstrated cooperative relations between both counties in various fields. In addition, discussions took place on the status of the region, including current events." The Emir expressed his comfort regarding the strengthening ties between Qatar and Iran and welcomed the idea for Iran to oversee regional issues.
"It is important to have continuous consultations with the region's countries, including Iran," he added.
Meanwhile, the Iranian foreign minister expressed his hope in strengthening the dual relationship between Iran and Qatar in all fields.
"None of the regional crises have a military solution. All sides should "give priority to regional initiations for restoring collective stability and security," Zarif said at the meeting, according to Iran's semi-official Tasnim news agency.
This marks Zarif's first trip to Qatar since the diplomatic crisis began in June. Saudi Arabia, the United Arab Emirates, Bahrain and Egypt have cut all ties with Qatar on June 5, accusing Doha of supporting and funding terrorism and growing closer to Iran.
Qatar pulled its ambassador from Tehran in early 2016, after Saudi Arabia's execution of a prominent Shiite cleric sparked attacks on Saudi diplomatic missions in Iran. The pullout was a Qatar move offering solidarity with the kingdom, which has long expressed concerns over Doha's pursuit of its own maverick foreign policy supporting Islamists, as well as being the home of the Al-Jazeera satellite news network, which ranks among the Arab world's most influential TV channels.
Iran and Qatar have strong shared commercial interests, namely a massive offshore natural gas field, called the South Pars Field by Tehran and the North Field by Doha. That gas field's vast reserves have made Qataris have the highest per capita income in the world. Those reserves have also funded Al-Jazeera and helped secure hosting the 2022 FIFA World Cup.
The crisis has split the hereditarily ruled nations of Gulf Cooperation Council, a regional bloc representing Bahrain, Kuwait, Oman, Qatar, Saudi Arabia and the UAE that formed in part as a counterbalance to Iran.