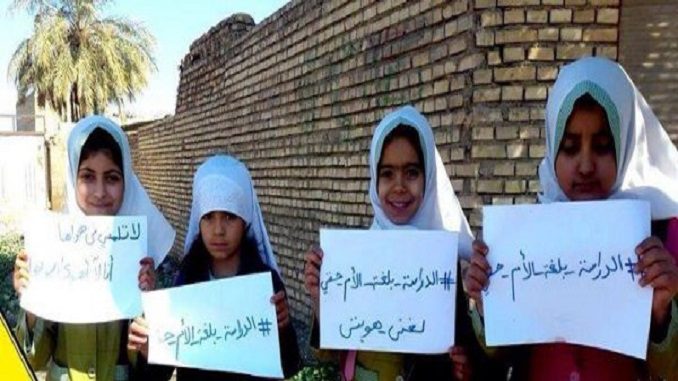 The Iranian Education department in Al-Ahwaz has officially given the opportunity to hire 2,000 teachers from Lur tribes, that underwent a very short training and will be employed, Ahwazi Center for Human Rights reports.
"In connection with the recruitment of new forces, 2000 teaching staff will start their work to reduce the teachers' lack in the education system in the Al-Ahwaz. This office faces a shortage of about 10,000 teachers," says Mohammad Taghi Zadeh, General Director of Ahwaz Education department.
Ahwazi Arab teachers are facing racial discrimination for the recruitment and after employment, where most of the teachers are leaving Arab land to migrate to Persian cities for jobs and homes promised by the authorities, and those who are refusing to migrate are either in prison or executed.
Discrimination in employment and the policy of demographic change is a trend that has taken place in recent years by the Islamic Republic of Iran in Ahwazi Arab cities as part of a comprehensive security plan that addresses all the economic, political, security, social and cultural problems by security suppressive strategies and targeted methods of "demographic change" in the Arabian lands.
One of the Ahwazi teachers said that these teachers received a teaching permit from September to October 2017 training for a very short period of one month, and these teachers entered the education system without passing their full-time education, which is a major blow to the educational process in the Al-Ahwaz region.
"The change in the geographical situation and the significant transfer of Arab teachers to the inner cities of Iran due to the difficulty of living in the high temperate as well as dirty weather and in addition to the retirement of many Arab teachers without reasonable reason each year, are the factors in the lack of teachers in Ahwaz schools," one of the Ahwazi elementary teachers said in regards to the lack of teachers in Ahwazi educational system.