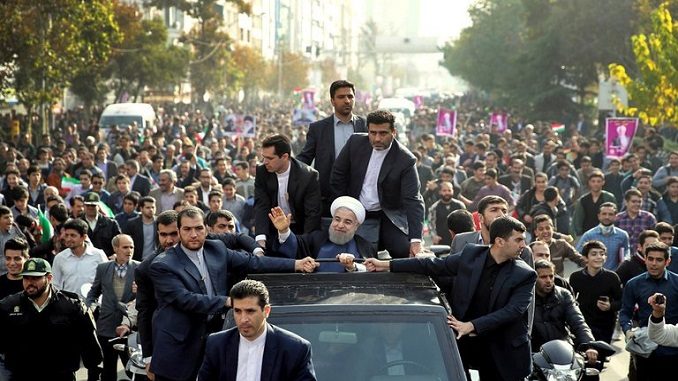 Iran's Supreme Leader Ayatollah Ali Khamenei and President Hassan Rouhani have both condemned U.S. President Donald Trump's move to recognize Jerusalem as Israel's capital. Their condemnations were to be expected. However, they did not offer a window into how Iran would likely respond to such a move. At moments like these, it is helpful to study the reaction of influential analysts, who will write and speak with more details, Al-Monitor reports.
Sa'adollah Zaeri, an analyst who often writes for hard-line Kayhan newspaper and is believed to be linked ideologically to the Islamic Revolutionary Guard Corps (IRGC), wrote that Trump's decision to recognize Jerusalem as Israel's capital has certain advantages.
"This situation in reality under these conditions makes Iran's work in forming a resistance front with a focus on defending Palestine easier," Zaeri wrote in Tasnim News Agency.
One of the biggest groups that Iran has helped form in the Middle East is the Lebanese group Hezbollah. The deputy secretary-general of Hezbollah, Naim Qassem, presented a similar analysis as Zaeri.
"America has made clear what it has always hidden. Now, the option of resistance must be supported at various levels. South Lebanon was freed through resistance, and it became clear that Israel can be defeated," Qassem said of Trump's move on Jerusalem.
Ahmad Al Almodadel, a member of Islamic Jihad, which has stronger ties to Iran than Hamas, called on the Palestinian Authority to end peace negotiations being mediated by the United States, saying, "America cannot establish peace in the world because it is the cause of instability in the region."
Iran has had success in setting up armed groups throughout the Middle East, particularly in Syria and Iraq, in recent years. Iran's support for Palestinian groups, however, dates back to the early days of the 1979 Islamic Revolution and has continued to varying degrees since.
Fars News Agency published a list of Palestinian condemnations in reaction to Trump's decision on Jerusalem. The first two groups on the list were Hamas and Islamic Jihad, two groups Iran has supported militarily. Although Iran had a falling out with Hamas over differences involving the civil war in Syria, Iran has maintained contact with the group. In their statements, Hamas and Islamic Jihad both echoed similar statements by Iranian officials saying that the move has removed any doubt about U.S. impartiality regarding the Israel-Palestine issue.
The idea of "resistance" is often in reference to American and Israeli hegemony and their regional allies. It still has a strong resonance with conservatives and hard-liners, particularly the IRGC, which favors countering U.S. influence rather than compromising. For instance, neither Rouhani, Vice President Eshaq Jahangiri, Secretary of the Supreme National Security Council Ali Shamkhani nor the Ministry of Foreign Affairs statement referenced "resistance" in their condemnations of Trump's decision.
There was also heavy social media reaction. Many Iranians joined Arab users with the Arabic-language hashtag "Jerusalem is ours" and "Quds." Javan Online, which is linked to the IRGC, headlined an article "Trump has opened the doors of hell to Israel." The article, which contained world reactions to Trump's announcement, began, "A Middle East after Daesh [Islamic State] apparently will not see calm."