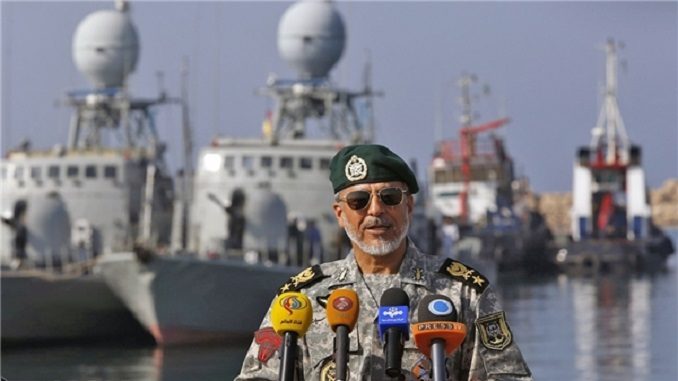 Iran is developing nuclear-powered submarines and building a new advanced destroyer for its navy, even as tensions rise with the United States over the Islamic Republic's military expansion, Newsweek reports.
The commander of the Iranian navy, Rear Admiral Habibollah Sayyari, told Fars news agency Tuesday that Iran's nuclear agency was under orders to start producing nuclear reactors for fueling and propulsion systems that could be used on ships and submarines.The new destroyer would be more advanced than its two predecessors, Jamaran and Damavand.
"I think that we will manage to accomplish this task in the current year," he added.
The announcement of the plans for Iran's navy came at a time of ratcheting tensions with the United States over the Islamic Republic's nuclear ambitions. In 2015, Tehran signed an agreement with the U.S. and other world powers, giving up its nuclear weapons program in exchange for the lifting of economic sanctions. President Donald Trump has repeatedly railed against the deal, brokered by his predecessor Barack Obama, and used his maiden speech at the United Nations General Assembly to call the agreement an "embarrassment."
Last Saturday, the Iranian government aired footage of a ballistic missile test it said it had carried out following a military parade in Tehran. Trump slammed the launch, which later turned out to be a hoax, on Twitter.
"Iran just test-fired a Ballistic Missile capable of reaching Israel. They are also working with North Korea. Not much of an agreement we have," he wrote late Saturday.
The U.S. has said that Iranian actions such as the testing of ballistic missiles violate the nuclear agreement in spirit, though not technically breaking the deal. Iran, while condemning Trump over his bellicose rhetoric, has vowed not to break the nuclear accord. The Islamic Republic is allowed to maintain nuclear capabilities for energy but is banned from using it to create nuclear weapons. Sayyari said the nuclear submarines would be built within the framework of the deal.
"We will certainly carry the job within the framework of the nuclear deal and the safeguard agreements and will not do anything beyond that. Tehran will also consult with the director general of the IAEA as it builds the nuclear engines," he said.