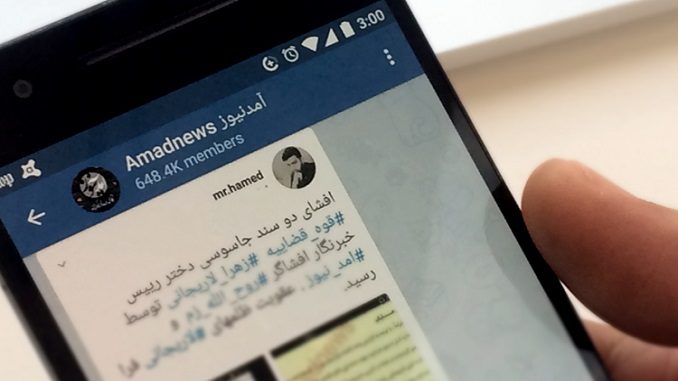 Iranian Telecommunications Minister Mohammad Javad Azari Jahromi has vowed to block "anti-revolutionary channels" on the Telegram messaging application after the popular Amad News channel reported that a state official's daughter was arrested for spying, the Center for Human Rights in Iran reports.
"We are seriously seeking to derail channels that oppose the state," said Jahromi, a former intelligence official.
Iranian officials often threaten to block access to Telegram channels that are critical of the state or contain allegedly "immoral" material. However, that would technically require cooperation from Telegram, which has so far only complied with requests involving violations of the company's terms of use, including posts containing extreme violence and pornographic content.
Complying with the Iranian authorities' censorship policies would be a serious violation of freedom of expression by Telegram, and could result in the migration of a significant number of its reported 40 million Iranian users. On October 9, Tehran Prosecutor General Mohammad Jafar Montazeri, stated that the Islamic Republic was determined to shut down Amad News "for conducting anti-revolutionary activities through Telegram."
An independent news channel based outside of Iran with more than 640,000 followers, Amad News is one of the most popular Iranian-content channels on Telegram. Under the motto of "Awareness, Struggle, Democracy," the channel frequently publishes reports critical of Iranian state policies.
On October 3, Amad News published a report claiming that Judiciary Chief Sadegh Larijani's daughter, Zahra Larijani, had been arrested on suspicion of spying for the UK. Larijani denied the report the next day.
Intelligence Minister Mahmoud Alavi stated in an interview with the Iranian state broadcasting organization, abbreviated as IRIB, on October 4 that his agency "has not seen any signs that would lead to suspicions of spying by any member the Larijani family."
Iranian officials often threaten to block access to Telegram channels that are critical of the state or contain allegedly "immoral" material. However, that would technically require cooperation from Telegram, which has so far only complied with requests involving violations of the company's terms of use, including posts containing extreme violence and pornographic content. On September 26, 2017, Tehran Prosecutor Abbas Jafari Dowlatabadi announced that a lawsuit had been filed in an Iranian court against Telegram CEO Pavel Durov, claiming that the app is servicing terrorists and spreading immoral content in Iran.
In a tweet to Durov on October 8, Telecommunication Minister Jahromi wrote, "We support the free flow of information, but we condemn the publication of hate and false information in cyberspace."
The internet and social media apps are heavily restricted and censored in Iran, with hardliners in the government viewing any form of internet freedom as a threat to the Islamic Republic. Numerous sites, including independent news outlets, have been filtered by Iran's state censors and dozens of journalists and social media activists have been punished with long prison terms for posting their views online.
According to a report published in September 2017 by the Open Observatory of Network Interference (OONI), an internet censorship monitoring organization, 121 of the 886 sites blocked by the state between September 2014-17 were news-related. Iranian print and broadcast media outlets are also forced to comply with strict censorship rules, including bans on prominent former presidents, or risk arrest and imprisonment.