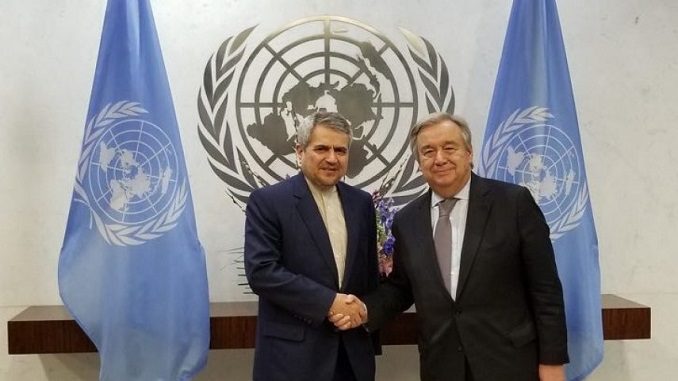 Iran is ready to work with the new UN special envoy to Yemen, Martin Griffiths, to resolve the crisis there through political approaches, Iranian United Nations ambassador Gholamali Khoshroo said in a meeting with UN Secretary-General Antonio Guterres. Khoshroo added that "any uncalculated and unilateral measure at the UN Security Council regarding Yemen would only lead to deterioration of the humanitarian situation in Yemen," Xinhua reported.
"Given the above issue, any illogical measures in UN Security Council about Yemen will lead to the aggravation of situation severely," Khoshroo reiterated.
Meanwhile, Guterres emphasized that the United Nations will harness the best means to reach a political compromise in Yemen. Guterres and Khoshrou underlined the importance of continued diplomatic process to resolve the Syrian crisis, Fars News reported.
Khoshroo used the opportunity to thank the UN secretary-general for his message of condolences sent to the bereaved families of victims of a recent plane crash in Iran. Iran's permanent envoy to UN also submitted an invitation letter to UN secretary general on behalf of 12 countries to attend International Day of Nowruz ceremony. The invitation letter was highly welcomed by the UN secretary-general.
Griffiths will replace Ismail Ould Cheikh Ahmed who announced this week that he will step down from the post at the end of next month.
At least 15,700 people have been killed since the onset of Saudi Arabia's military campaign against Yemen in 2015. Most of the country's infrastructure, including hospitals, schools and factories, has been destroyed in the war which has also triggered a deadly cholera epidemic across Yemen. The World Health Organization's latest tally showed that the cholera outbreak has killed 2,167 people since the end of April last year and is suspected to have infected 841,906.