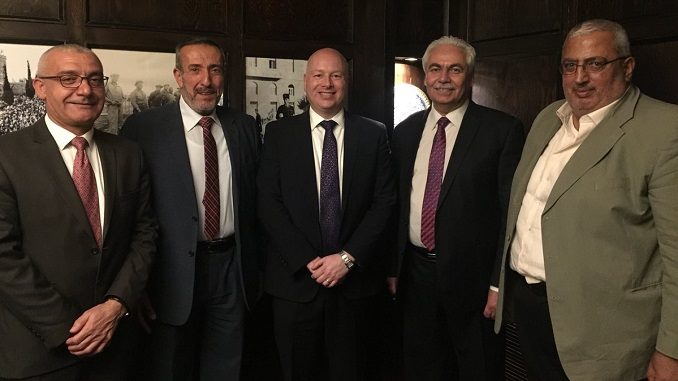 Hamas is "begging Iran" for help in its armed resistance against Israel, a senior Trump administration official said on Monday, addressing the visit of several Hamas leaders to Tehran over the weekend, Jerusalem Post reports.
Their visit comes amid talk of Palestinian reconciliation between Hamas and Fatah, which have split rule over the Palestinian territories of Gaza and the West Bank, respectively, for nearly a decade. Greenblatt is in the region meeting with Israeli and Palestinian officials as part of his ongoing effort to restart peace talks. Hamas – considered a terrorist organization by Israel, the U.S. and other Western powers– believes that violence is the right path forward in its efforts to "destroy Israel" and claim Palestine their own.
"Hamas, which has only brought ruin and misery to Palestinians, now begs Iran for help and again vows to destroy Israel. Palestinians deserve so much better than this. We must find a better path forward toward peace and prosperity," wrote Jason Greenblatt, the U.S.'s special representative for international negotiations, on Twitter.
Last week, Greenblatt angered Hamas by confirming that the terrorist group "must unambiguously and explicitly commit to nonviolence, recognize the State of Israel, accept previous agreements and obligations between the parties — including to disarm terrorists — and commit to peaceful negotiations."
This position towards Hamas was first established a decade ago by President George W. Bush, and was incorporated into UN Security Council Resolution 1850, passed in 2008. Hamas spokesman Sami Abu Zuhri accused the U.S. of "blatantly interfering in matters that belong only to the Palestinian people."
"We have the right to choose a government that is suitable for the Palestinians. Jason Greenblatt's statement contradicts previous statements that supported the internal Palestinian reconciliation, and was put out under pressure from Israeli Prime Minister Benjamin Netanyahu and his extremist government."
Zuhri drew a clear distinction between its potential reconciliation with Fatah and its policy regarding Israel on his visit to Tehran this weekend. Hamas officials have in recent days recommitted the group to the destruction of the Jewish state through violent means.
Hamas Deputy Chairman Salih al-Arouri said that Iran agreed to continue to support "Palestine and the resistance" after meeting with senior Iranian officials in Tehran including Ali Akbar Velayati, a top adviser to Iran's Supreme Leader Ayatollah Ali Khamenei.
"The main result is the continuation of Iran's commitment towards Palestine and the resistance in Palestine. We hope this support will continue and grow until the resistance will be able to defeat the occupation," Arouri said in an interview on Sunday with Iran's al-Alam TV, referring to Hamas's armed wing, the Ezzeldin Qassam Brigades.
Iran has long supported the Qassam Brigades, which is comprised of some 25,000 members who have fought in three wars with Israel over the past ten years. According to Arouri as well as Hamas Chief in Gaza Yahya Sinwar, Iran is the biggest backer of the Qassam Brigades.