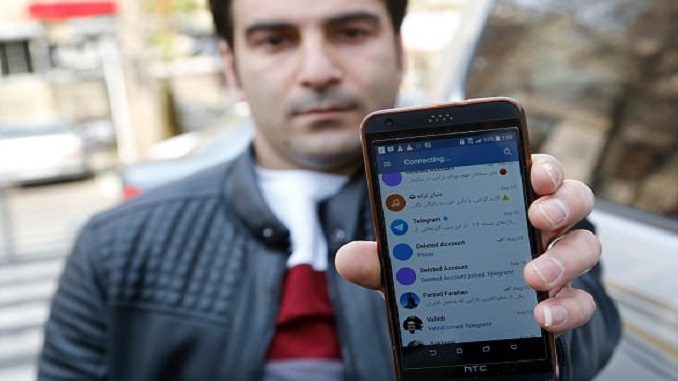 Iran has lifted restrictions on the messaging app Telegram, the state news agency IRNA reported on January 13. The popular service had been blocked during recent public protests, the most serious nationwide unrest in the Islamic republic since 2009 in order to prevent the escalation of violence amid the recent unrest, RFERL reports.
Iran's ICT Ministry on Saturday confirmed that Telegram has been officially unblocked a few days after the restrictions on Instagram and a number of other services like Pinterest, Reddit, FourSquare, Zoho, and SoundCloud were lifted.
"An informed source announced that the filtering of the Telegram messenger has been ended and it is being used by users," IRNA reported.
The AP news agency said it had spoken with residents in several cities, including Shiraz, Isfahan, Bandar Abbas, Rasht, and Oromieh, all of whom confirmed that they had access to the app.
Telegram had actually closed the anti-Iran channel, named Amad News, for encouraging people to violence after a top Iranian official's request. The channel, with over 1.3 million followers, was blocked by Telegram after it tried to provoke Iranian people to use violent actions against the Islamic Establishment amid the recent protests.
However, Amad News started its operation in a new channel, and Telegram refused to remove the new one, claiming that the new channel has not yet violated the app's Terms of Service. This prompted the Iranian government to restrict Telegram temporarily until peace is restored to the country.
Earlier this month, Iran shut down Telegram and the picture-sharing app Instagram, claiming protesters were using them to spread unrest. At least 22 people were killed and 1,000 people arrested in the anti-government protests that began in late December, sparked at first over rising consumer prices.
As the protests ebbed, the government last week lifted restrictions imposed on Instagram, one social media tool used to mobilize protesters. But access to the more widely used messaging app Telegram was still blocked, suggesting authorities remained uneasy about the possibility of further protests.
Telegram, with 40 million users in Iran, in late December shut down a channel that Tehran had accused of encouraging violence. But it declined to block other channels, prompting Iranian authorities to block access to the app.
Many Iranians access Telegram using virtual private networks and other tools to bypass government filtering of the Internet, residents said. But officials said hundreds of companies using the app for their marketing and sales had been hard-hit by the social-media restrictions, and President Hassan Rohani was quoted as saying about 100,000 people had lost their jobs.
Iran continues to impose restrictions on the Internet and social media, with Facebook and Twitter still blocked.