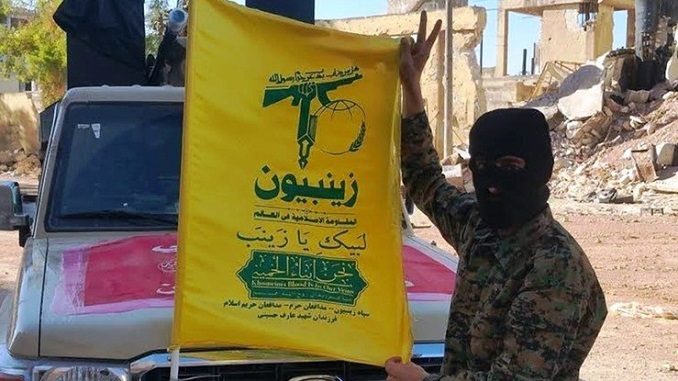 Security officials in Afghanistan and Pakistan have revealed that the Iranian regime has increased the armed thugs needed by the regime to fight in Syria. Reported sources in Islamabad, Pakistan, said the Iranian regime pays about $600 a month for foreigners, according to Sky News Arabiya. There are concerns that these people will return to their countries facing a critical situation.
Thousands of Afghans and Pakistanis have gone to Iran during the Syria war. The ruling regime in Iran, with its sectarian origin, has recruited thousands of people under the pretext of supporting the Shi'ite leaders' shrines to use them at any time for the war in Syria. According to intelligence reports, the Iranian regime has recruited nearly 6,000 Afghans. Most of these people are affiliated with the Fatimid Brigade and are trained by the Revolutionary Guards.
Pakistanis, estimated at hundreds, are affiliated with the Zeynabioun Brigade, and are also trained by the Revolutionary Guards. Members of these two groups receive about $600 a month and they are promised that more will be done for them in the future.
In Islamabad, like Kabul, the country's intelligence agency says Pakistan has witnessed several explosions in which terrorist groups have claimed responsibility and claimed retaliation for the crimes of Bashar al-Assad, the Iranian regime and the militants affiliated to this regime against Syrians. Islamabad is worried that if the war in Syria goes down, they will return to Pakistan and take action of sabotage.
In its quest to expand its regional influence and establish dominance, Iran's Islamic Revolutionary Guard Corps (IRGC) has been recruiting Pakistani youth to fight for its interests in Syria. This strategy is evidenced by the Zeinabiyoun Brigade , whose elements are trained and armed by the IRGC, then transported to Syria to fight alongside other IRGC-affiliated factions and the Syrian regime.
The Zeinabiyoun Brigade was first sighted in military areas of operation in Damascus and its environs and Aleppo in mid-2014, said Cairo University doctoral student Sheyar Turko, who has been researching the financing of the IRGC. Soon afterwards, reports about the brigade fighting in Syria alongside the Syrian regime and allied militias began circulating on social media.
"Since 2015, social networking pages of its supporters began posting updates about its casualties in Syria," he said. "What is notable is that they were buried in Iran and not Pakistan. Zeinabiyoun Brigade is an armed group of Pakistani Shias, most of whom hail from areas in western Pakistan"
Others come from impoverished areas of Punjab province, some parts of Sindh province and from northern areas near the Chinese border, he said. The sole aim of the formation of these armed groups is to "tighten [IRGC's] control over the countries they hail from and engage in proxy wars on behalf of the IRGC in hotspots like Syria", said Middle East Centre for Regional and Strategic Studies researcher Fathi al-Sayyed, who specialises in Iranian affairs.
"Iran uses these mercenaries as a means to achieve its ambitions without involving its army directly in the fighting, except for the purpose of training and direct supervision of [military] operations," al-Sayyed said.
To entice Pakistanis to fight in the ranks of this brigade, Iran amended Article 980 of the Nationality Law to confer citizenship to those who render services or notable assistance to public interests in Iran.
"Another amendment was introduced in 2016 to confer citizenship to the wives and children of non-Iranians who die in the course of carrying out a mission for Iran," he said.
Al-Sayyed said Iran's objective is to "spread sectarianism in areas that it is able to access and whose communities it is able to penetrate."
"This enables it to gradually gain control of those areas, after entering them during sectarian crises, and enables it to control groups affiliated with it on purely sectarian grounds," he said.
The involvement of the Pakistani brigade in the Syrian war "amplified the sectarian character of the conflict, and consequently increased the number of deaths and prolonged the duration of the war", he said.