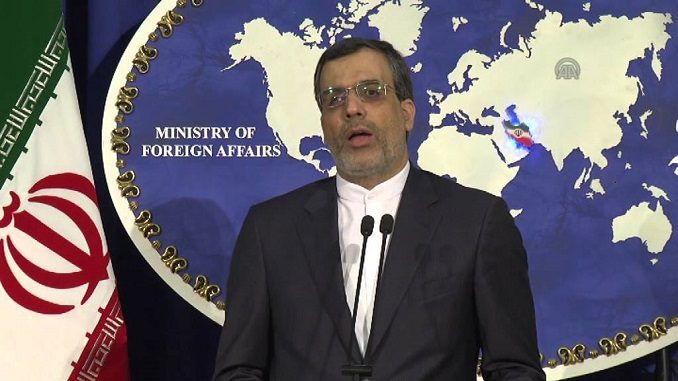 Iran won't withdraw from Syria unless President Bashar Assad asks it to leave, a senior Iranian diplomat told reporters in Russia, one day after Israeli Prime Minister Benjamin Netanyahu threatened military action to force Iran's departure, Washington Examiner reports.
"They are there at the Syrian government's request to resolve issues that the Syrian people have been facing," Iranian deputy foreign minister Jaberi Ansari said Tuesday.
Russia and Iran have cooperated to keep Assad in power in the face of a civil war, and Iran is hoping to expand its military capabilities across Syria to its terrorist proxies in Lebanon. Ansari is in Sochi, Russia for a diplomatic summit on a political settlement to the crisis. Syrian opposition leaders and the United States declined to attend, preferring a United Nations-led process, but NATO ally Turkey joined the event.
"When all the tasks are achieved, Iranian forces will leave the country with the consent of the Syrian authorities," Ansari also said.
The summit is taking place one day after Netanyahu traveled to Moscow to warn Putin that Israel will not allow an Iranian military build-up on its borders.
"This meeting occurred while there is a watershed change in Syria. Will Iran establish itself in Syria or will this process be stopped? If it is not halted on its own then we will act to stop it. We also spoke about Lebanon. I told [Putin] that the threat of precision weapons against Israel is a serious threat that we are not willing to accept and if we have to act, we will act," Netanyahu asked Monday.
The prime minister said he also spoke with Putin about the threat of Iran manufacturing precision weapons in Lebanon, something Jerusalem views as "a grave threat." Netanyahu said he told Putin that "also here, if we need to act, we will act." Netanyahu's comments on Lebanon come as Israel is launching a diplomatic campaign warning that it will not tolerate precision missiles manufactured in Lebanon.
Netanyahu said he and Putin talked about various "scenarios of escalation" in the region, and how they can be dealt with. Netanyahu said that with the Mideast at a crossroads, there is an opportunity to stabilize Syria and Lebanon, but that there is one actor – Iran – which is trying to do the opposite.The prime minister said he raised the issue of the Iranian nuclear deal, and he told Putin that if changes were not made to the deal, then it was likely that the US would walk away from it.
Russian officials maintain that the Sochi summit could enhance the UN talks, provided the Syrian opposition give up on trying to oust Assad.
"[T]he Syrian National Dialogue Congress in Sochi will be able to create conditions for staging fruitful Geneva talks, taking into consideration that the part of the Syrian opposition that constantly makes preconditions, including for regime change, will be talked into sense by those who control it," Foreign Minister Sergey Lavrov said in early January, according to state-run media.
Secretary of State Rex Tillerson countered that long-term peace in Syria depends on the departure of both Assad and Iran.
"Iran seeks dominance in the Middle East and the destruction of our ally, Israel. [R]educing and expelling malicious Iranian influence from Syria depends on a democratic Syria. For many years, Syria under Bashar al-Assad has been a client state of Iran. A Syrian central government that is not under the control of Assad will have the new legitimacy to assert its authority over the country," he said in a January 17 address.