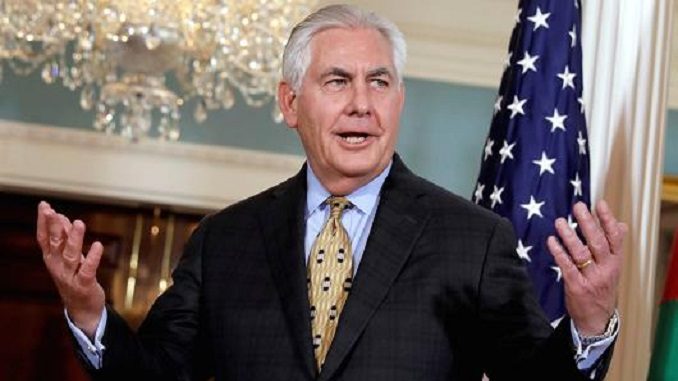 Iran will dominate many of U.S. Secretary of State Rex Tillerson's conversations in Europe next week, when he is visiting London, Paris, Warsaw and Davos, Switzerland, a senior U.S. State Department official said on Friday, Reuters reports.
"Inevitably, Iran will dominate a lot of the conversations that the secretary has with our NATO allies and partners in Europe. We really emphasize close coordination with the British, in particular, and the French in our efforts to close the gaps (in the Iran nuclear deal) and in next steps on how we curtain Iranian malign influence in the (Middle East) region, so I think that will be a very high priority of his conversation," the official, who spoke on condition of anonymity, told reporters.
U.S. State Department spokesperson Heather Nauert said Thursday that Secretary of State Rex Tillerson will visit London, Paris, Warsaw and Davos on January 21-27, as the trans-Atlantic ties have been challenged by widening division over the U.S. proposed revision of the Iran nuclear deal, among others.
According to her announcement, Tillerson will meet with British Foreign Secretary Boris Johnson and National Security Advisor Mark Sedwill to discuss bilateral cooperation on such issues as Iran, Syria, Libya, the Democratic People's Republic of Korea and Ukraine.
The trans-Atlantic ties between the United States and Europe at large has been shaky ever since Trump assumed the presidency on Jan. 20, 2017. The two sides have also seen snowballing differences on multiple issues like Trump's retreat from the Paris climate accord, his decision to recognize Jerusalem as Iarael's capital at the end of 2017 and his refusal to certify Iran's compliance with the historic Iran nuclear deal in October.
Trump on Jan. 12 said he will extend sanctions relief on Iran under a landmark nuclear deal for the last time, threatening a U.S. withdrawal from the pact if the U.S. Congress and his European allies cannot fix the alleged "disastrous flaws."
In a speech at Stanford University's Hoover Institution in California on Wednesday, Tillerson had vowed the U.S. military would stay in war-torn Syria for the foreseeable future to counter militant groups and Iran, even as he urged patience in waiting out Syrian President Bashar al-Assad.
The top diplomat singled out Iran for criticism several times, contending that "through its position in Syria, Iran is in a stronger position to extend its track record of attacking US interests, allies and personnel in the region."
"It [Iran] is spending billions of dollars a year to prop up Assad and wage proxy wars at the expense of supporting its own people," he claimed.   "Diminishing" Iran's influence in Syria is a key goal for US policy in Syria, Tillerson added.
Tillerson will be visiting London, Paris, Warsaw, and Davos, Switzerland, during the trip. Tillerson's trip comes amid behind-the-scenes negotiations over the fate of the landmark agreement to curb Iran's nuclear program in exchange for easing crippling international sanctions targeting Tehran.
Earlier this month, U.S. President Donald Trump announced that he was prolonging U.S. sanctions imposed earlier against Iran. But Trump also said he wanted to work with European allies and Congress to fix what he called "disastrous flaws" in the 2015 Iran deal signed under his predecessor, Barack Obama. Trump warned that Washington would withdraw from the deal if it is not strengthened within 120 days.
Russian Foreign Minister Sergei Lavrov, meanwhile, warned that the nuclear deal would collapse if the United States pulled out.
"This agreement cannot be implemented if one of the participants unilaterally steps out of it. It will fall apart, there will be no deal then," Lavrov told reporters at the United Nations in New York on January 19.