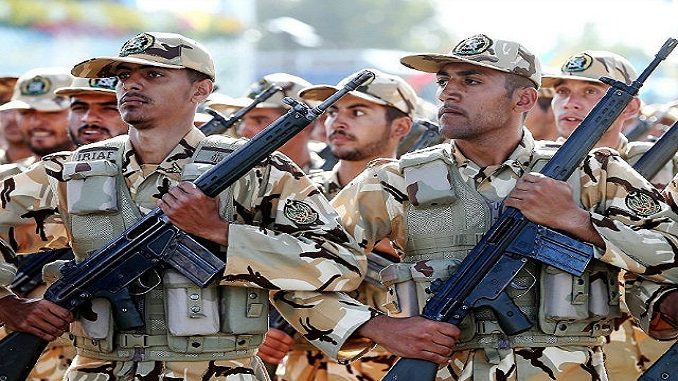 The Islamic Republic of Iran is reportedly acting more visibly within what it refers to as "the axis of resistance" by mobilizing its growing network of terrorist proxies throughout multiple Middle Eastern countries, particularly in Syria, in light of a recent incident between Iran and Israel, Breitbart reports.
Last week, Israel shot down an Iranian drone that flew into Israel from Syria and conducted airstrikes on Syrian and Iranian bases within Syria in response. Syria downed an Israeli F16 fighter jet during the incident. The events have exacerbated the possibility of a new conflict between Israel and Iran.
Following strategic victories over the Islamic State and Turkey-backed rebels inside Syria, an overly confident Iran apparently decided to test regional boundaries and its own capabilities by sending the UAV over the border into the Jewish state. The decision by the Iran-led "Shiite Axis" in the region to send an unmanned aerial vehicle (UAV) into Israeli territory was a dangerous miscalculation by Tehran and its puppets in Syria and Lebanon.
Iran, Syria and Hezbollah have outrageously been attempting to frame Israel's massive airstrikes as unprovoked aggression, even fueling conspiracies that no drone was intercepted. In reality, the timeline is self-evident. The Shiite Axis operational to Israel's north – Iran, Syria and Hezbollah – have been celebrating the incident that resulted in the F-16 abandonment as a victory.
"This is the beginning of a new strategic era which puts an end to the violation of Syrian airspace and territory," Hezbollah claimed in a statement published by Lebanon's ANI news agency.
Iran's drone fleet is an important part of its war arsenal against Israel. Hezbollah has previously threatened to send explosives-laden drones to target Israel's nuclear plant and civilian infrastructure. Only last week, Iran announced the opening of a drone manufacturing facility meant to mass produce UAVs that can carry smart munitions to attack various targets.
Amir Toumaj, a research analyst at the Foundation for Defense of Democracies (FDD) who studies Iran, told the New York Times this week:
"The ultimate goal is, in the case of another war, to make Syria a new front between Israel, Hezbollah, and Iran. They are making that not just a goal, but a reality."
A key to Iran's strategy, analysts and officials say, is to rely not on conventional military hardware or control of territory, which Israel can easily bomb, but on building ties with local forces who share its goals and benefit from its financing and expertise.
Israeli Prime Minister Benjamin Netanyahu has warned the world for years that Iran is seeking to expand its hegemony throughout the Middle East and has noted that Israel is a prime target. Some people in Israel have started referring to a potential "First Northern War," meaning that Israel will have to fight across both the Lebanese and Syrian frontiers.
"If there is a war, it will be regional. Any confrontation will be with the whole resistance front against Israel and its backers," said Kamel Wazne, the founder of the Center for American Strategic Studies, in Beirut, who studies the policies of the United States and Iran in the Middle East.
Both Israeli officials and Israel's enemies say that any new conflict between Israel and Iran, or any of its allies, could mobilize Iran's expanding network of militant proxies in multiple countries, what Iran refers to as "the axis of resistance." The Iranian axis of resistance includes Hamas, Hezbollah, the Syrian government, Iraq, and the Houthis in Yemen.
There are 10 Iranian military bases in Syria, two of which are close to the border with Israel, that are training militias from the Bashar al-Assad regime for a future war with the Jewish state, an analyst for an American think tank contended in an article published Monday in The Times of Israel.
As many as 20,000 fighters in Syria have been trained by Iranian military personnel, giving Iran its "true muscle" in Syria, according to the Monday. About 6,000 of them are Hezbollah members, with the rest coming from Lebanon, Iraq, Afghanistan, Pakistan and other countries. Most of them view the conflict in religious terms, the report said.
According to Israeli political and military assessments, Tehran, which has shored up Assad in the Syrian civil war, has been working to create air and naval bases in Syria, from which it can arm the Lebanon-based terror organization Hezbollah and other Shiite groups, as well as carry out attacks of its own against the Jewish state.
In November, Israeli satellite photos appeared to strengthen a BBC report that Iran was building a permanent military base in Syria, just 50 kilometers (31 miles) from Israel's northern border. The ImageSat International pictures, published by Hadashot News, showed that renovations and alterations had been recently undertaken at the site at al-Kiswah, some 13 kilometers (8 miles) south of the Syrian capital of Damascus.
At least two Iraqi militia leaders have toured Lebanon's border with Israel in recent months, The New York Times also said, quoting militia members as saying plans were made for "collaboration" in a possible conflict in the future.
After neutralizing most of the threat posed by the Sunni Islamic State terror group, militias loyal to Assad are now shifting their focus to the Israeli front, Ali Alfoneh, a researcher at the U.S.-based Atlantic Council told The New York Times.
"Iran has realized that it is actually possible to maintain a front against Israel where there is no war, but also no peace," Alfoneh was quoted as saying.
Iran's initial interest in entering Syria was to defend the rule of President Bashar al-Assad against Syrian rebels. However, as the Syrian opposition has lost traction, and Assad's rule appears to be intact, the Times notes Iran's shift "to creating an infrastructure to threaten Israel … in hopes of building a united front in the event of a new war."  In light of recent incidents, that likelihood of war is higher than ever before.