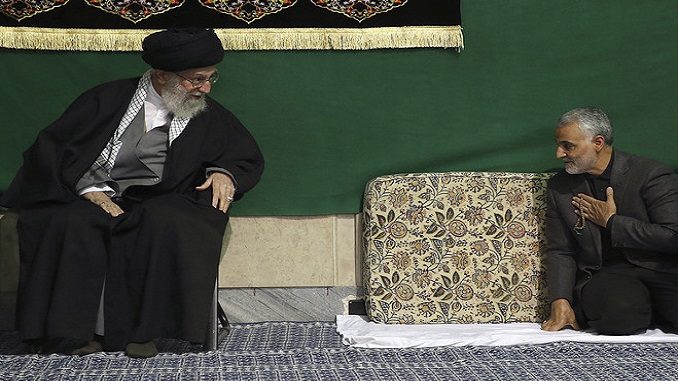 U.S. officials consider the commander of an elite Iranian military unit a terrorist supporter and the man ultimately responsible for the deaths of thousands of American soldiers and their Middle East allies. But many Iranians view Gen. Qassem Soleimani, the face of Tehran's growing regional clout, as their best defense against foreign aggression, The Wall Street Journal reports.
Gen. Soleimani's public profile is soaring just as Iranian President Hassan Rouhani's popularity sags. In a recent poll from the University of Maryland, 64.7% of Iranians had a "very favorable" view of Gen. Soleimani, compared with 23.5% for Rouhani, suggesting that the main architect of Iran's wars in the Middle East is the most popular official in the country.
That is a sign of support for Shiite Iran's aggressive push for influence in the Middle East in the wake of recent protests over the country's struggling economy, strict social norms and disappointing returns from the easing of sanctions under the 2015 nuclear deal that Rouhani hailed.
"His popularity comes from being a war hero and not bragging about it in the media. He is like an ambassador of Iran's power…I think all Iranians are proud of him. Who wouldn't be?" said Ramin Mozafarian, 42, who owns a gold shop in Tehran.
An example of Iran's emboldened foreign policy came earlier this month when Israel said it intercepted an Iranian drone in its airspace that came from Syria, where Iran backs the regime of President Bashar al-Assad.
Gen. Soleimani, who is 60 years old, is the public face of Iran's efforts to arm Shiite militias in Iraq and salvage the regime in Syria, and one of Iran's biggest celebrities, trailed by photographers when he visits the front lines. With a white beard and a head of hair to match, he poses for selfies with Iraqi and Syrian militiamen and is the subject of tribute videos on YouTube.
The Quds Force he heads is the elite unit of Iran's Islamic Revolutionary Guard Corps responsible for operations abroad, a force that answers directly to Supreme Leader Ayatollah Ali Khamenei. The IRGC has a history of political repression at home but is expected to reap some of the dividends of Gen. Soleimani's popularity, helping it rebuff Rouhani's attempts to curtail its influence and assert its military ambitions.
The U.S. in 2007 designated the Quds Force as a supporter of terrorism, and has identified Gen. Soleimani as the key figure behind Iran's campaign to fund, train and equip Shiite militias fighting in Iraq, Syria, Lebanon and Yemen. These measures have apparently had little effect on the public relations value of Soleimani's visits to the frontlines against jihadis, which Iran often accused the U.S. of secretly protecting. He was also named one of TIME Magazine's 100 most influential people of 2017.
By setting up bases and propping up loyalists, Iran seeks to prevent a military threat from neighboring Iraq and to carve out a corridor connecting Tehran to the Mediterranean in Lebanon, allowing it to resupply allies with guns, men and heavy material by land.
At home, Gen. Soleimani is largely credited with keeping Islamic State away from Iran's borders. Seven years into the Syrian war, 55% of Iranians think the country should increase its support of groups fighting Islamic State, according to the University of Maryland survey. Only 10% think the military should decrease it. Many Iranian leaders are dogged by suspicions of corruption, but Gen. Soleimani has cast himself as a man who eschews wealth and yearns for martyrdom in service of the Islamic Republic.
"Soleimani's public exposure is a way of mobilizing Shiites world-wide for Iran's war effort in the Middle East," said Ali Alfoneh, a nonresident fellow at the Atlantic Council, an international affairs think tank based in Washington. "This is the kind of hero the regime needs."
The IRGC's's reputation suffered after it cracked down on anti-regime rallies in 2009, but it benefited financially from the U.S.-led sanctions regime imposed under former President Barack Obama. Its hold on Iran's security apparatus allowed it to step in where foreign companies had pulled out. Operations including construction, running the national airport and investments in the cultural sphere make it a potent political force.
Gen. Soleimani has stayed above the political fray, ignoring calls to run for president. But he has responded scathingly to attempts by Rouhani and allies to push for a more diplomatic approach in Syria and Iraq, saying that diplomacy can't do the work of "martyrs of defense."
In Syria, Gen. Soleimani has been instrumental in saving the Assad regime. In 2013, when the Iranian government appeared willing to drop Mr. Assad as an ally over his use of chemical weapons, Gen. Soleimani instead requested 2,000 Hezbollah fighters to help the Syrian leader capture the town of Qusayr, which became a turning point in the war.
In Iraq, he has sought to dominate politics as well as the battlefield by arming Shiite militias and building a personal following with a concerted public-relations campaign.
"Iran is using Shiite militias in the same way it has used Hezbollah in Lebanon, in order to gain substantial political power as well as significant influence in security affairs. Those militias have been responsible for the deaths of hundreds of Americans in Iraq and elsewhere over the years, and much greater losses of soldiers and civilians of our allies and partners in the region," said Gen. David Petraeus, who as the former top U.S. commander in Iraq studied Gen. Soleimani and said he communicated with him through intermediaries.
In a sign of U.S. concern, Central Intelligence Agency Director Mike Pompeo said in December that he had sent a letter warning Gen. Soleimani he would be held accountable for "any attacks on American interests in Iraq by forces that are under their control." According to a senior aide to Khamenei, Gen. Soleimani said, "I will not take your letter nor read it and I have nothing to say to these people."
Gen. Soleimani has spent almost his entire adulthood in the IRGC, which he joined after the 1979 revolution in Iran. In the war with Iraq—which claimed up to a million lives and shaped the worldview of his generation of Iranians—he won praise from peers for his reconnaissance missions and quickly made commander.
"Within their ranks, they call the Iran-Iraq war a World War III that no one in the world recognizes. It was the world against Iran," she said. "That is their lens on international politics," said Narges Bajoghli, a research associate at Brown University's Watson Institute who has studied the Revolutionary Guard's use of media.