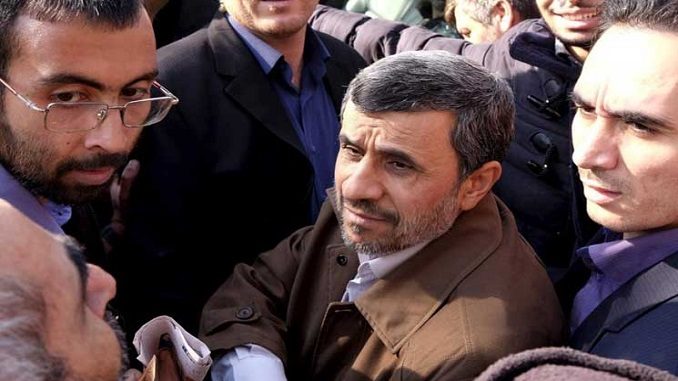 The Iranian regime headed by Ali Khamenei has reportedly arrested former President Mahmoud Ahmadinejad in Shiraz city for inciting unrest and more demonstrations following statements he made earlier in Bushehr.  Authorities are now seeking to place Ahmadinejad under house arrest with Khamenei's approval, the Al-Quds Al-Arabi newspaper added, citing "reliable sources in Tehran".
During a visit to Bushehr city late December, Ahmadinejad had said that Iran suffered from "mismanagement" and that current President Hassan Rouhani and his government "believe that they own the land and that the people are an ignorant society," the newspaper reported.
"Some of the current leaders live detached from the problems and concerns of the people, and do not know anything about the reality of society," they reported him saying.
Iran's fifth head of the judicial system, Amole Larijani, had accused Ahmadinejad of inciting more protests, the same accusation directed at prominent Shi'ite cleric and politician Mehdi Karroubi and former prime minister Mir-Hossein Mousavi which also lead to their house arrest.
In a videotaped statement, Ahmadinejad spoke about Larijani sarcastically saying, "I have no children spying for the West, I have no brothers who are actively smuggling goods, and I do not steal land to raise my cattle."
The protests currently sweeping Iran are being considered the largest challenge to the Iranian regime since the Green Movement uprising in 2009 after the re-election of former president Mahmoud Ahmadinejad.  Protests that have rocked Iran have reached the eleventh consecutive day on Sunday. Activists protested last Friday under the slogan "The Friday of Anger for our Martyrs" referring to the 50 protesters who were killed so far by Iranian security forces, according to the opposition.
Iran's state TV on Saturday showed pro-government rallies in several cities, starting with Amol, in the northern province of Mazandaram, with hundreds of people waving the Iranian flag and chanting slogans against the US and Israel.
State TV described the rally as a "response to rioters and supporters of the riots." Other pro-government demonstrations were held in Shahin Dezh, in West Azarbaijan province bordering Turkey; the city of Semnan, in the northern Semnan Province; and Shadegan, in the southern Khouzestan Province near Iraq.
The rallies are meant to be a show of force against anti-government protests that broke out in Mashhad, Iran's second largest city, on December 28, and have since spread to several other cities and towns. The protests were sparked by a hike in food prices amid soaring unemployment. Some demonstrators have called for the government's overthrow. According to the government, the official number of deaths since the uprising is 22. However, the opposition announced that the toll has reached 50 on Friday.