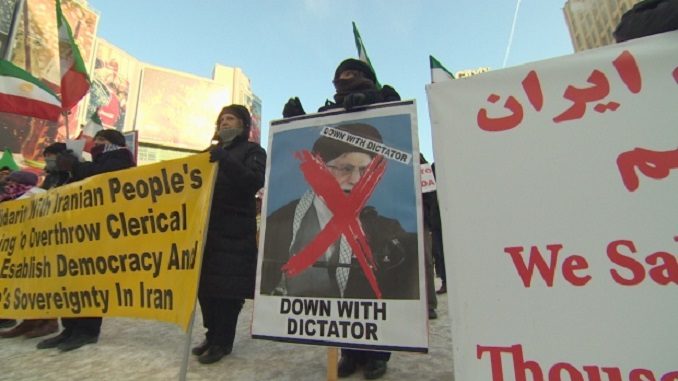 Dozens of people rallied in Yonge-Dundas Square on Saturday in support of ongoing anti-government demonstrations in Iran, CBS reports.  Carrying Iranian flags and chanting slogans calling for peaceful regime change, Iranian-Canadians and other supporters braved the frigid temperatures to show protesters in Iran that "no matter what, we support you."
"For the protesters in Iran, we salute you. We will never forget you, we never forgot you. We are your voice here and we will be loud and clear for you, for regime change in Iran," Zahar Fallah, is director of the International Coalition of Women Against Fundamentalism (ICWAF), the group that organized the rally told CBC Toronto.
Saturday's demonstration was only the latest the ICWAF has organized. The group also rallied in Mel Lastman Square on Dec. 30. Those who attended the rally in Toronto underscored the need for a peaceful transition of power.
"We're trying to shed light on the situation in Iran — that we want a peaceful transition, not a violent transition, to avoid it becoming a failed state like Libya or Syria. We are here to support the demonstration in Iran, to show them they have support from outside the country and that they have support no matter what happens," said Yasher Gharageh, Fallah's son.
Khosrow Ziaei said much of the anger among Iranians stems from the theocratic regime's alleged funding of international terrorist groups that are actively participating in conflicts in places like Yemen and Syria, while citizens go hungry or without work. He says he spent some seven years in an Iranian prison following an uprising in 1982. For months at a time, he says, he stayed in a cramped jail cell with dozens of other men, many of whom eventually disappeared, their names stricken from any formal records.
"The Iranian people are tired of this," he told CBC Toronto.
Dozens of Vancouverites also joined their voices together on Saturday in support of thousands protesting in the Middle East.
"There are no basic human rights in Iran. Women have no rights in Iran. Workers have no rights. There is no right of organization, of assembly or anything that people can express themselves," said one protester.
"On the street they say reformists or hardliners, you both are over. We want to get rid of the whole Islamic Republic of Iran," said another. "
Debate over the violent protests in Iran led to some pushing and shoving as competing groups rallied outside the Vancouver Art Gallery to support the Iranian protesters on Saturday.  Two rallies overlapped- one started at 11 a.m. and the other at 1 p.m. – as about 200 people showed solidarity with the Iranian protesters, with some calling for the ouster of Islamic Republic supreme leader Ayatollah Ali Khamenei.
"Death to Khamenei!" and "Down with the Islamic Republic of Iran!" many shouted in Farsi. Some came waving the country's historical flag bearing a lion and sun motif, which was replaced by the Islamic Republic in 1980 following the Iranian Revolution. But when the afternoon rally's organizers took the microphone on the gallery's steps and called for U.S. sanctions to be lifted from the Iran, they were met with jeering from many in the crowd.
At least half-dozen skirmishes broke out between the opposing sides, leading to shouting and shoving. Several protesters had flags or signs ripped from their hands and police came to remove one man from a particularly heated spat on the gallery's top steps. Some were left in tears.