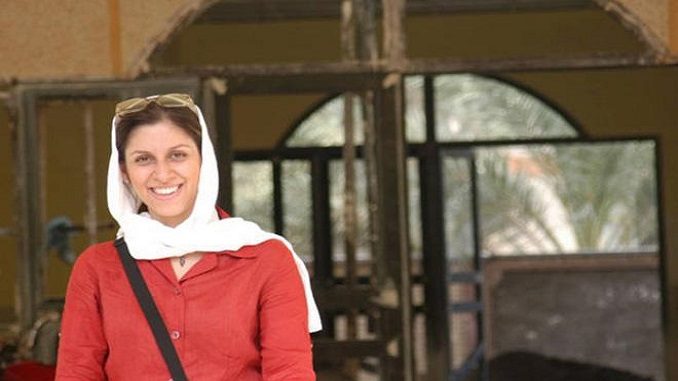 Iran will treat a British-Iranian aid worker as an Iranian citizen and she will serve her sentence as determined by the judiciary, Iran's foreign ministry spokesman said on Monday as quoted by Reuters. British Foreign Secretary Boris Johnson discussed Nazanin Zaghari-Ratcliffe's case with Iranian officials after flying to Tehran over the weekend to try to seek her release.
"One of the issues that Johnson brought up in Tehran was the issue of Ms. Zaghari. With regard to her dual nationality, from our point of view of course she is Iranian and she has been sentenced by the judiciary and she will serve the period of her sentence," Iranian foreign ministry spokesman Bahram Qassemi was quoted by state media as saying.
Qassemi said the Iranian foreign ministry would follow up on Zaghari-Ratcliffe's case but said that it was ultimately a matter for the judiciary. The Iranian Foreign Ministry said on Monday that it will follow up on the case of Nazanin Zaghari-Ratcliffe, a British-Iranian woman jailed in Iran, for "humanitarian reasons", but emphasized that the Iranian Judiciary acts as an independent body and is the ultimate decision-maker on the issue.
"It's undeniable that Ms. Zaghari's issue was brought up by the British side during a visit to Tehran by UK Foreign Secretary Boris Johnson," Qassemi said during a press conference on Monday.
Qassemi said the Foreign Ministry explained to the British side how legal cases are handled in Iran and that the Judiciary, due to separation of powers, acts as an independent branch within the Islamic Republic. Iran does not recognize dual nationals and considers dual citizens as Iranian citizens only.
"[Although] Ms. Zaghari is a dual national, but in our view she is [only] Iranian. Under our judicial system, she has been found guilty and is serving her sentence," Qassemi said.
Iran has jailed Zaghari on charges of espionage. She was arrested in March of 2016. British Foreign Secretary Boris Johnson raised the case during a two-day visit to Iran that concluded Sunday.
But according to the spokesperson for the Iranian Parliament's National Security and Foreign Policy Commission Hossein Naqavi Hosseini, the British Foreign Secretary has asked the Islamic Republic to free two spies. Speaking to the Tasnim News Agency, Naqavi Hosseini pointed to Johnson's recent visit to Iran and said:
"One of the problems that we face in receiving European delegations is that they make irrational requests from the Iranian side. Some of the requests made by European delegations traveling to Iran are regarded as kind of interference in the internal affairs of the country," the lawmaker added, stressing that the issue has not raised in the National Security and Foreign Policy Commission but if so, the commission will oppose the request.
Iran-Britain ties soured in 2011. On November 27, 2011, a large majority of Iranian lawmakers voted to downgrade diplomatic ties with Britain, following Britain's decision to impose sanctions on the Central Bank of Iran. Later, angry Iranian students stormed the British embassy in Tehran and pulled down the European country's flag.
Following the incident, Britain withdrew its diplomatic staff from Tehran on November 30, 2011, and asked Iran's diplomatic delegation in London to leave within 48 hours. The two countries made diplomatic efforts afterward to amend ties.
In August 2015, the British embassy in Iran reopened after a 4-year closure. Britain's then foreign secretary, Philip Hammond, attended a ceremony in Tehran to mark the reopening on August 23. It was the first visit by a British foreign secretary to Iran since 2003. Simultaneously, Iran's embassy in London also reopened.