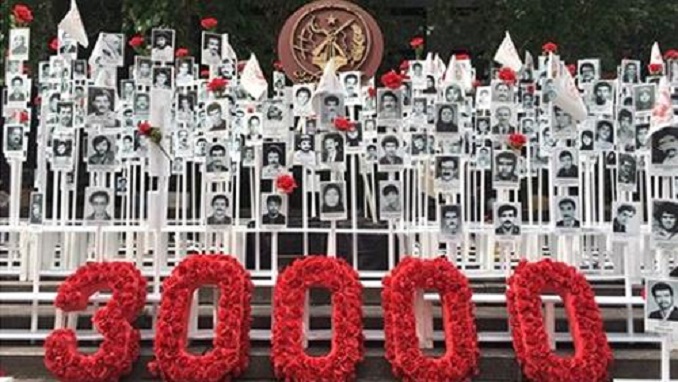 A human rights group has submitted a statement to UN Human Rights Council urging bigger involvement on the part of the international community in regards to the 1988 massacre of political prisoners in Iran. According to the statement, if the international community fails to intervene, the Iranian regime will not change its policies and will further continue to violate human rights in every possible way.
"On the 29th anniversary of the 1988 mass extra-legal executions of political prisoners in the Islamic Republic of Iran, we believe that until the full truth is unveiled and the perpetrators are held to account for their crimes, there will be no incentive for the government of Iran to change its policy on human rights. This is why we are calling on the United Nations to launch an independent inquiry into the 1988 massacre to reveal the truth, hold the perpetrators to account and seek justice, reparation and guarantees of non-recurrence," the statement reads.
In 1988, the government of Iran massacred 30,000 political prisoners. The executions took place based on a fatwa by Supreme Leader Ayatollah Khomeini. Commissions were formed across Iran's territory which were sending political prisoners who refused to abandon their beliefs to execution. After this massive massacre, the perpetrators continue to enjoy impunity. Many names of the three-member commissions have emerged and made public, however many of them are still in high positions in the current government and the judiciary. Articles seeking to justify the massacre have been published across state media, including online publications, and Intelligence Ministry outlets.
Amnesty International, Human Rights Watch and the International Federation for Human Rights (FIDH) have all described Iran's 1988 massacre as a 'crime against humanity'.
UN Secretary General António Guterres in a 13 March 2017 report to the Human Rights Council mentioned that the OHCHR has received the copies of dozens of complaint letters addressed to the High Commissioner for Human Rights and to the Prosecutor of the International Criminal Court from families of persons killed in the 1988 mass executions.
According to international law, there is no statute of limitations for crimes against humanity. It is the responsibility of the international community, including the Human Rights Council and Security Council, to attend to this matter and to ensure that accountability is achieved. What gives this matter urgency is that the 1988 mass extra-legal executions have not come to an end. Iran continues to execute people following unfair trials.
"We urge the Special Procedures of the Human Rights Council, in particular, the Special Rapporteur on the human rights situation in Iran, Asma Jahangir, and the Special Rapporteur on the promotion of truth, Pablo de Greiff, to investigate Iran's 1988 massacre as part of their respective mandates", the statement adds.