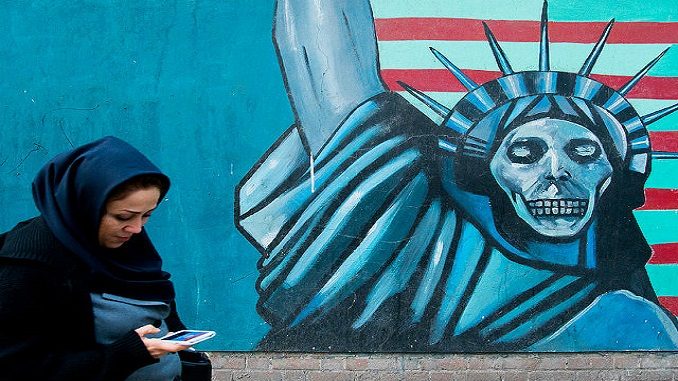 Iranian members of parliament pressured President Hassan Rouhani to permanently block critical messaging and communications app Telegram, used by tens of millions living in the Islamic Republic, on Tuesday.
"In recent months, the enemies of the Iranian nation made maximum use of foreign messaging apps to create insecurity and chaos in Iranian cities," the MPs wrote in a letter read during a public session of the parliament January 16, according to Radio Farda.
Media outlets, including foreign-based radio and TV stations such as Radio Farda, have channels on the app through which they reach audiences inside Iran despite a severe Internet censorship regime.
The MPs reportedly also blamed the deadly attacks on Iran's parliament by Islamic State (IS) militants last June on said apps in order to strengthen their request to shutter access to them for everyday Iranians.  Although apps like Telegram and Instagram were temporarily blocked by the regime at the onset of the December 28 protests and uprising, some were still able to access them by using anti-filtering software and proxies, both of which the MPs have asked the government to block.
Iran has 82 million people living in the country. Nearly half of the population, 40 million people, use messaging apps like Telegram on a monthly basis.
Radio Farda reported that these MPs wished to replace international apps with domestic equivalents. The government has gone so far as to announce it will provide a $1.25 million loan at zero percent interest to companies developing domestic messaging apps.
However, Radio Farda reported that Telecommunications Minister Mohammad Javad Azari Jahromi said, "Due to poisonous propaganda against domestic apps, people do not trust them and think their privacy will be violated or they will face problems." Despite the veracity of this first part of his statement, Jahromi insists this belief "is not correct."
Breitbart News reported that Iran's judiciary had also blocked the voice calls feature from Telegram and Instagram Live ahead of the country's May 19 presidential elections last year, in what was seen as a power move by Iran's hardliners to control the outcome of the race.
However, Rouhani has reportedly refrained from blocking Telegram permanently, citing the fact that many Iranian businesses rely on the popular app. As calm returned, Rouhani ordered the app unblocked, a decision that was met with harsh criticism by the judiciary and the Islamic Revolutionary Guard Corps (IRGC).
Sadegh Larijani, the head of the judiciary, slammed the government January 15, saying at a meeting with high-ranking judiciary officials:
"Figures who care about the establishment know well that the enemy's [activities] can be effective through cyberspace. During the recent events, all security agencies acknowledged that [a number of] people were provoked to riot by a messaging application [Telegram], and they were trained to build bombs through the same app. What kind of parents would really accept that their child be incited to set the flag of the country on fire or set a building ablaze? Therefore, we believe that we should not open the way for the enemy. Why should we give 40% of the country's internet bandwidth to Telegram, and why would an official of the Islamic Republic negotiate with the messenger's manager to close several of its channels," he added.
Two days after Larijani's remarks, Abdul Samad Khorramabadi, the deputy of Iran's prosecutor general, wrote on Soroush, an Iranian messaging app:
"Judicial records indicate that the vast majority of illegal businesses, such as the sale of drugs and alcoholic beverages, the sale of pornographic films and many other illegal economic activities, are done through Telegram. No country allows foreign internet companies to operate uncontrollably in its cyberspace."
He then slammed the Rouhani administration, saying, "The indifference of the government to the criminal activity of Telegram and Instagram is unprecedented, surprising and unfortunate."
Moreover, in a January 17 open letter published by Iranian news agencies, General Mohammad Reza Naghdi, the IRGC deputy for cultural and social affairs, asked Rouhani to permanently ban or block Telegram and promote Iranian messaging applications.
"A variety of Iranian social networks and messenger [apps] have been produced by Iranian scientists that could become widespread with a little support from the government. Why should we not appreciate these capacities? Why should we create jobs for Russian and American youth instead of Iranians? Why do we not believe in our young specialists?"
Describing the current situation as "worse than the slavery era" in the United States, Naghdi added:
"To whose account will the dollars go with each of our clicks? To the account of America and its colonial institutions. Is this fair? Is it wise?"
On Friday, the Treasury Department announced that its Office of Foreign Assets Control (OFAC) designated 14 individuals and entities in connection with serious human rights abuses and censorship in Iran.