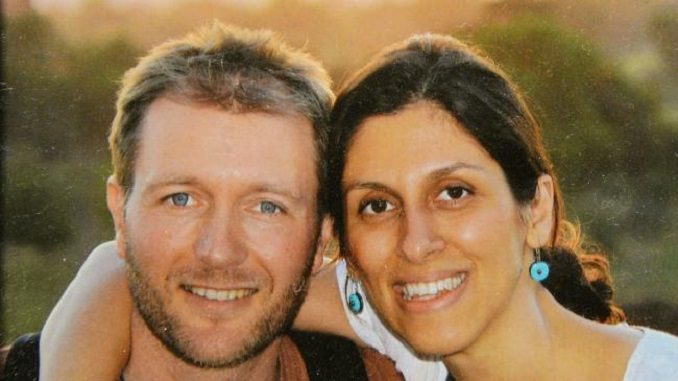 Two days after a former senior British politician expressed optimism after discussing the case of imprisoned Iranian-British dual national Nazanin Zaghari-Ratcliffe with Iranian officials, the Tehran Province prosecutor denied she would soon be released.
"Nazanin Zaghari is serving her prison sentence and there's no discussion about freeing her," Gholam-Hossein Esmaili told the semi-official Jamaran news agency on January 12, 2018.
Esmaili added that the charity worker, who was sentenced to five years in prison for unspecified national security charges in September 2016, is "also being investigated by court judges in another open case but no date has been set for the trial."
The judicial official was reacting to comments by former UK Foreign Secretary Jack Straw, who met with Iranian officials in Tehran during the second week of January 2018.
Speaking on January 10, after returning to London, Straw described the meetings he had with Iranian officials as "very cordial," adding, "We made strong representations about the need for Zaghari-Ratcliffe, and another gentleman, to be released on compassionate grounds."
Pressed on how their representations were received, Straw said he was told by the Iranians that they are considering this option.
"The important thing is that both of these people are released as soon as possible," Straw added.
In December 2017, Zaghari-Ratcliffe's husband, Richard Ratcliffe, said his wife had become eligible for "early release" and that her lawyer was "hopeful" when he visited her in Evin Prison. Ratcliffe told BBC Radio 5 on December 21 that he felt there was a "change of the tide" since Foreign Secretary Boris Johnson traveled to Iran in early December 2017 to discuss Zaghari-Ratcliffe's case.
A month earlier, Iran's state-run Islamic Republic of Iran Broadcasting (IRIB) had run a smear campaign on Zaghari-Ratcliffe, accusing her of spying for the British government. IRIB has repeatedly colluded with Iran's judiciary and security forces, including the IRGC, to convince the Iranian public that defendants held in politically motivated cases are guilty of committing crimes.
The state-run news service also broadcasts forced confessions by detainees, in clear violation of international provisions on fair trials and the right to due process.
The IRGC has arrested at least 30 dual nationals in Iran since the signing of the nuclear deal in July 2015, according to a Reuters investigation. Research by CHRI shows that at least 12 dual and foreign nationals, as well as permanent residents, were in prison in Iran as of January 2018 without due process.
"The European governments' deafening silence on human rights violations in Iran not only encourages further rights abuses, it endangers European citizens who travel to Iran," said CHRI's Executive Director Hadi Ghaemi in November 2017.
The only other known British citizen currently jailed in Iran is Kamal Foroughi, a 78-year-old male who has been serving a seven-year prison sentence in Tehran's Evin Prison since 2011. He is currently eligible for release.
Dozens of foreign diplomats based in Iran were criticized by human rights activists after they visited Evin Prison without seeing dual and foreign nationals and other political prisoners currently held in the prison.
Diagnosed with cataracts in 2016, Kamal Foroughi has been eligible for parole for more than 1,300 days under Article 58 of Iran's Islamic Penal Code, which allows for conditional release after prisoners have served a third of their prison sentence.
Kamal Foroughi, who holds both Iranian and British citizenship, was working as a consultant for the oil and gas Petronas company when he was arrested on May 5, 2011, by Iran's Islamic Revolutionary Guard Corps (IRGC) and sentenced to seven years in prison for "espionage" and one year for "possession of alcoholic drinks at home." The latter sentence was eventually dropped, according to Kamran Foroughi.
Iran does not recognize dual nationality.