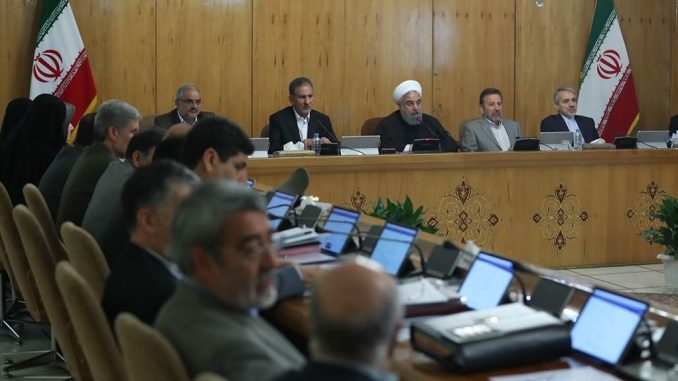 Following an avalanche of criticism by lawyers and journalists, Iranian President Hassan Rouhani's government decided to return a new controversial bill to its Cultural Commission for further review. The bill titled the Media Governance Organization had triggered opposition among journalists and lawyers who believe it would totally deprive Iranian media of their fundamental right to freedom of expression, Radio Farda reports.
Citing unnamed government officials, Iran Students News Agency, ISNA had earlier maintained that the new bill was adopted to "support journalists' legitimate rights". However, dozens of journalists, lawyers, and legal experts begged to differ.
The bill would have required all journalists to apply for a special license, otherwise, they would have been barred from reporting on public and state matters. Furthermore, had unlicensed journalists committed a "media" offense, they would have been tried without a jury. Currently, the government has called on its Cultural Commission to define references to the penal and legal matters in the bill with "special care" and report the outcome to the cabinet.
Meanwhile, Rouhani's administration has asked the Employment and Administrative Organization to weigh the possibility of launching the MGO as a public and non-governmental organization. The new bill was mainly attacked for the fact that MGO was designed to be totally controlled by the government, without journalists having a say in it.
However, ISNA, quoting a cabinet meeting, had presented a long list of "advantages" the new bill was expected to award Iranian journalists; including supporting the freedom of media staff who are responsibly active in covering events and developments, free flow of information, public's right to have access to information and promoting moral ethics and professional code of conduct among journalists.
In her latest report, UN's Special Rapporteur on the situation of human rights in Iran, Asma Jahangir once again announced receiving reports on violations of freedom of expression and persecution of journalists in the Islamic Republic.
Iran's harsh treatment of journalists has recently reached a point that the Islamic Republic's judiciary issues bills of indictment against Iranian journalists working abroad and even deprives them of their civil rights, including the right to transition in their homeland.
On October 25, BBC filed a complaint with the United Nations over Iran freezing the assets of more than 150 people associated with its Persian service, calling the Islamic Republic's actions "a deprivation of human rights." The British broadcaster also said that Iran's move was part of a "criminal investigation" into the BBC's staff, former employees, and contributors over allegations they fomented a "conspiracy against national security" in Iran. Those swept up in the investigation include Iranian dual nationals from Australia, Austria, Canada, France, Germany, Britain, and the United States, the BBC said.
"BBC Persian staff are unable to return to Iran as they risk arrest, interrogation, and imprisonment. Many BBC Persian staff have been separated from their families for years and, in a number of cases, were unable to see loved ones before they have died," the complaint said.
Many journalists in Iran already dismissed the MGO as a useless tool incapable of addressing the problems Iranian journalists and journalism are confronting in the Islamic Republic.
In an article for the reformist daily Sharq, a renowned lawyer-journalist, Kambiz Norouzi insisted that the MGO explicitly contradicts the principle of respecting the freedom of social and public media, as well as the necessity of having an independent media staff, in a civilized society. Norouzi also noted that the new bill is suffering from at least 47 fundamental legal shortcomings.
"MGO, if launched, will lead to creating a government controlled journalism, denying the necessity of independence for the profession and imposing more restrictions on Iranian media", Norouzi elaborated further.