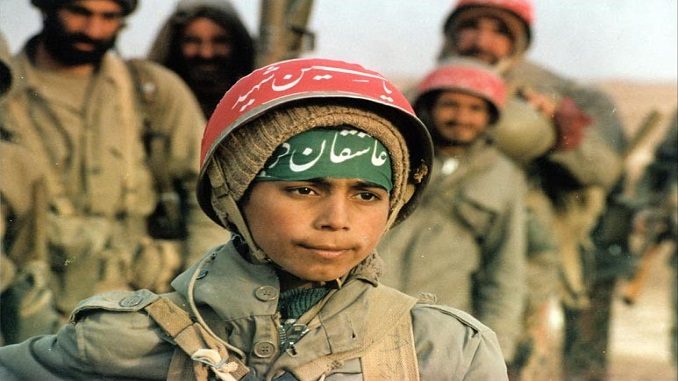 November 20 is designated as the United Nations' Universal Children's Day. However, the Iranian regime does not cherish children. In fact, during the Iran-Iraq war, it was reported that Khomeini's regime used hundreds of thousands of schoolchildren as cannon fodder, Iran News Update reports.
The young recruits are said to have received only one to three months of military training before they were being sent to the war front. Reports alleged that nine-year-old children were being used in human wave attacks, while others were blown up as they charged across the minefields to clear the way for the IRGC. Many of the child soldiers captured by Iraqis during the Iran-Iraq war were in their early teens. The Iranian child soldiers wore plastic keys around their necks. The keys symbolized their "permission to enter paradise."
Estimates related to the Iran-Iraq War, say that around a million people were killed between 1980 and 1988, and that the paramilitary Basij Force recruited thousands of children to clear minefields. There are no reliable records about the actual number of children casualties in the war, but according to a report by the International Committee of the Red Cross at least 10 percent of Iranian prisoners of war were underage children.
As well, Iranian military officers captured by Iraqis during the war, admitted that nine out of 10 Iranian child soldiers were killed in the battlefields. According to a Human Rights Watch (HRW) report released on October 1 of this year, the IRGC and its armed Basij units continues to sacrifice the children of Afghan refugees in Iran in the same way.
This was seen in the Syrian conflict, where, as the HRW report states: "Afghan children as young as 14 have fought in the Fatemiyoun division, an exclusively Afghan armed group supported by Iran that fights alongside government forces in the Syrian conflict. According to international law, recruiting children under the age of 15 to participate actively in hostilities, is a war crime."
The execution of juvenile offenders in Iran is increasing every year. UN Special Rapporteur for Human Rights Situation in Iran Asma Jahangir, expressed grave concern over the "highest number of executions" of juvenile offenders, which totaled 435 in the first six months of the year.
Philip Luther, Amnesty International's Research and Advocacy Director for the Middle East and North Africa said:  "It is absolutely appalling that two decades after it ratified the Convention on the Rights of the Child, Iran continues to display such a chilling disregard for children's rights."
The increase in the number of street children in Iran who work as street vendors and beggars, has also raised concerns among international organizations. The U.S. State Department's annual report on human trafficking 2017 states: "Street children in Iran are highly vulnerable to trafficking. Organized criminal groups kidnap, purchase and force Iranian and migrant children, especially Afghan refugee children, to work as beggars and street vendors in cities, including Tehran. These children, who may be as young as three years old, are coerced through physical and sexual abuse and drug addiction."
On March 8, Fatemeh Daneshvar, chair of the social committee of Tehran's City Council, in reference to babies born prematurely to street women, said:
"Most of these infants are taken abroad and we do not know whether they are sold to organs trafficking gangs, to families or to brothels. This gang sells baby girls for a price higher than boys and sends the babies to unknown destinations," Daneshvar added.
Iran's media outlets released a chilling report on November 3. Director of Tehran's Municipality Welfare Office Reza Qadimi said that of the 400 street children, about 90 percent were sexually abused and raped. In rare instances street children are put in foster care programs.
Supreme leader Ali Khamenei and the IRGC appear to believe that children are dispensable, but the Iranian people and their children deserve better. A new policy on Iran must focus on a better future for the nation.