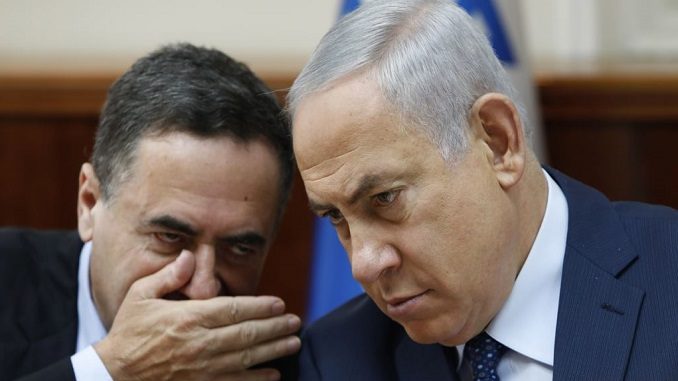 Israel sees an opportunity in Lebanese Prime Minister Saad Hariri's sudden resignation to put pressure on Iran and Hezbollah at the United Nations. Israel's Intelligence Minister Israel Katz told Associated Press in an interview on Thursday that he thinks conditions are right to pressure Iran about its behavior in the region, including support for Hezbollah, Radio Farda reports.
Hariri, a Saudi ally, unexpectedly announced his resignation as prime minister during a routine visit to the kingdom. Speculations are ripe that this was the result of Saudi pressure on Hariri, who headed a compromise government in Beirut, including Hezbollah. Some in Lebanon even said that he might be under house arrest.
Katz specifically argued for tightly enforcing a 2006 ceasefire agreement that called on Hezbollah to disarm and stay away from Israel's border.
"The resignation of Lebanon's Prime Minister Hariri exposes Hezbollah's real face. Iran is taking over Lebanon. Hezbollah is taking over Lebanon," Katz said.
The agreement that ended a 2006 war between Israel and Hezbollah called for disarmament of militant groups in Lebanon and an end to arms shipments to them. The agreement, however, has not really been respected, with Hezbollah maintaining its military presence and reportedly receiving more weapons from Iran.
Israel has also voiced deep concern, in the last few months, about the presence of Iranian troops and Hezbollah fighters near its borders with Syria. Katz also dismissed accusations that Saudi Arabia forced Hariri to resign.
"I don't think they forced him to resign. The threat against him in Lebanon is concrete," he said.
On Friday, France's foreign minister said that Hariri was not under house arrest in Saudi Arabia and did not have any particular constraints on his movements. France's ambassador to Riyadh met Hariri on Thursday, before French President Emmanuel Macron's unscheduled trip to Saudi Arabia.
Israel has been lobbying both the US and Russia, Syria's strongest ally, for safeguards that Iran and its allies will remain far from its borders in post-war Syria and that sophisticated weapons will not be able to reach Hezbollah.
Katz said Israel prefers diplomatic arrangements, but is ready to use military action if necessary.
"Israel has made clear what its red lines are and we will stand by those red lines," he said.
On Sunday, Prime Minister Benjamin Netanyahu told the BBC that Iran had taken over Lebanon.
"When Israelis and the Arabs, all the Arabs and the Israelis, agree on one thing, people should pay attention. We should stop this Iranian takeover," Netanyahu said.
Katz made similar statements to AP.
"The situation in Lebanon is a wake-up call that the UN must not miss: Lebanon is Hezbollah and Hezbollah is Iran," Katz said.