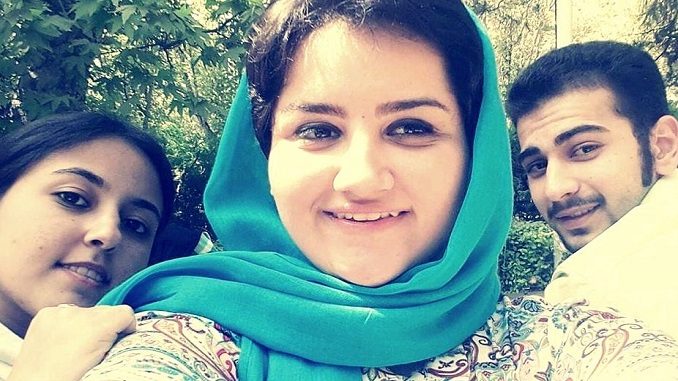 Three young Iranians who complained to state officials after being denied university education for being followers of the Baha'i faith have been sentenced to five years in prison each, the Center for Human Rights in Iran (CHRI) has learned.
Lawyers representing Rouhieh Safajoo (21), Sarmad Shadabi (22), and Tara Houshmand (21) were informed of the prison terms issued by Judge Mohammad Moghisseh of Branch 28 of the Revolutionary Court in Tehran on November 4, 2017.
"It's totally unfair. They have been given the maximum punishment without any consideration of their age or the fact that they did not have prior criminal records," Safajoo's sister, Maryam, told CHRI on November 8.
The three were convicted of the charges of "membership in the anti-state Baha'i cult" and "publishing falsehoods."
The Baha'i community is one of the most severely persecuted religious minorities in Iran. The faith is not recognized in the Islamic Republic's Constitution and its members face harsh discrimination in all walks of life as well as prosecution for the public display of their faith.
After receiving high marks in Iran's competitive university entrance exams in 2013, the Baha'is students were barred from enrolling in university. They wrote letters to the president, Science Ministry, Parliament and the judiciary to complain about the violation of their human rights.
"I ask you and other officials to treat me just as you would other 'human beings' and 'Iranians,' in accordance with human rights and the Iranian Constitution…[I]f my letter hasn't reached you and you haven't heard my voice, then you definitely haven't heard the voices of any Baha'is—because you told international forums that Baha'is are not mistreated," wrote Rouhieh Safajoo in a Facebook post addressing Mohammad Javad Larijani, the head of the Judiciary's Human Rights Council.
As the denial of access to education based on religion is in violation of Articles 19, 20 and 23 of Iranian Constitution, these students rightly protested and wrote to various government agencies, including the Office of the President, the Ministry of Science and Research, and other relevant organizations, seeking remedy. They received no response from any of the agencies or individuals.
They were able to have a meeting with the Tehran's parliament representative, Mr. Majoob, in which he insulted and humiliated them, then threw them out of his office.
About a year later, all three were arrested in February of 2016, and released on bail in March (Ruhyyeh Safajoo and Tara Houshmand, 50 million Toman each, and Sarmad Shadabi 200 million Toman).
After their release, they were summoned to the court on six separate occasions. However, only two court sessions were held out of the six summons.  When answering the fourth summons, they found that the judge (Judge Moghisheh) was not available.
The case was given to another judge, who, after hearing the defense presented by the students and their lawyers, requested that the Case expert be brought in for further examination, and to explain why these students had been arrested.
Baha'i students have long been denied higher education in the Islamic Republic. Previously, they were prevented from obtaining their exam results—required for enrollment—by an online message citing "incomplete cases." However, in an August 2014 Facebook post, Safajoo described a new form of rejection for Bahai's.
After logging in to view her exam results, an online message told her to write a letter or go to the National Education Evaluation Organization's Queries Office in the city of Karaj for her results.
She soon discovered that her non-Baha'i friends were able to retrieve their results online, but that all Baha'is were being told to contact an evaluation organization, and that they would only be rejected upon arriving at the address.
"If they had told me I had an 'incomplete case,' I wouldn't have been upset because I was prepared for it. But it bothers me that they found a new way to reject us," she wrote at the time. "."
In September 2014, Safajoo tried to share her grievances with Alireza Mahjoub, a reformist member of Parliament from Tehran, but "he was rude and insulting and threw her out of his office," her sister told CHRI.
"The court faulted Rouhieh for visiting tourist sites in India when she came to see me, including the Baha'i temple in New Delhi.  Another one of the accused was also condemned for posting a message from the Baha'i Universal House of Justice on his personal Facebook page. No other court would prosecute people for these sorts of things," said Maryam Safajoo.
Previously, At least two members of the persecuted Baha'i faith in Iran have been offered university enrollment in exchange for renouncing their religion, according to information received by the Center for Human Rights in Iran (CHRI).
An 18-year-old student who was denied access to higher education in Iran told CHRI that he was told at the UEO that he would only be allowed entry into the university if he converted to Islam.
"The UEO authorities said I would have the opportunity to gain a university education if I wrote a statement that I am now a Muslim and repent forever for being a Baha'i," said the student. "I refused to write it and so I was denied enrollment. This is a clear example of an inquisition and a violation of human rights. I also had a similar experience when I won placement in a high school for the gifted, but the headmaster found out about my religion and refused to enroll me," added the student, who spoke on condition of anonymity. "."
Earlier, at least 100 Bahai's were rejected by Iranian universities despite passing entrance exams in 2017. The rejected students received the following message: "Dear applicant, please go to the University Evaluation Organization (UEO) to answer questions about defects in your file."