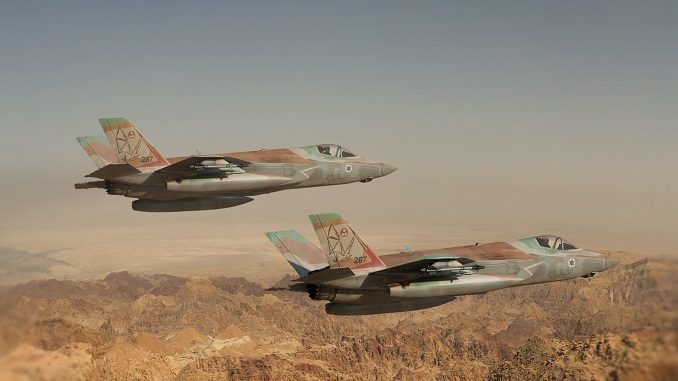 An Israeli F-16 fighter jet was shot down on Saturday by Syrian anti-aircraft fire and Israel struck an Iranian target that had launched an unmanned aircraft into its airspace from Syria, the Israeli military said, according to Reuters.
"IDF (Israel Defence Forces) has targeted the Iranian control systems in Syria that sent the #UAV into Israeli airspace. Massive Syrian Anti-Air fire, one F16 crashed in Israel, pilots safe," Israeli military spokesman Lieutenant Colonel Jonathan Conricus said on Twitter.
Iran and Syria denied that the drone which was shot down by Israel violated the Jewish state's airspace, claiming that Israel's allegation are "lies" and maintaining that the drone was on a regular mission gathering intelligence on Islamic State, The Times of Israel reported.
Israel said it had sent its jets into Syria after shooting down an Iranian drone flying over Israeli territory earlier on Saturday, adding that its warplanes came under fire in Syria, though it was still unclear why the F-26 jet had come down.
The Israeli military said in a statement that "twelve targets, including three aerial defense batteries and four Iranian targets that are part of Iran's military establishment in Syria were attacked. During the attack, anti-aircraft missiles were fired towards Israel, triggering alarms that were heard in Northern Israel."
Bloomberg writes that the clashes marked a dangerous new confrontation between the international powers, Israel and Iran, caught up in Syria's seven-year-old war.
The Israel Defense Forces "sees the Iranian attack and the Syrian response as a severe and irregular violation of Israeli sovereignty. The IDF is monitoring events and is fully prepared for further action," the military said in a statement.
"This is a serious Iranian attack on Israeli territory. Iran is dragging the region into an adventure in which it doesn't know how it will end," Israel's chief military spokesman, Brigadier General Ronen Manelis, said in a special statement. "Whoever is responsible for this incident is the one who will pay the price," he added according to AP.
General Hossein Salami, acting commander of Iran's Revolutionary Guard, rejected Israel's claim that it shot down the drone. "We do not confirm any such news from Israel," he said. Conricus pointed out that Iran was "playing with fire" by infiltrating Israeli airspace. The unmanned aircraft shot down by Israel was "on a military mission sent and operated by Iranian military forces," he added.