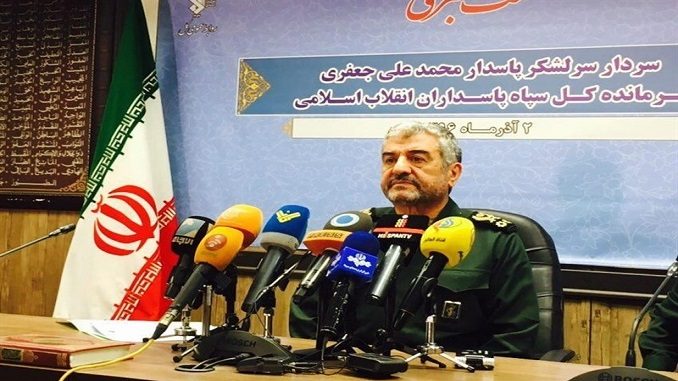 Iran's elite Revolutionary Guards will play an active role in establishing a lasting "ceasefire" in crisis-hit Syria, its chief commander Mohammad Ali Jafari said, adding that disarming Lebanon's Hezbollah was non-negotiable, state TV reported on Thursday.
"Hezbollah must be armed to fight against the enemy of the Lebanese nation which is Israel. Naturally, they should have the best weapons to protect Lebanon's security. This issue is non-negotiable," the television quoted Jafari as saying.
Regional tensions have risen in recent weeks between Sunni Muslim monarchy Saudi Arabia and Shi'ite Iran, whose rivalry has wrought upheaval in Syria, Iraq, Yemen, and Bahrain. Saudi Arabia has accused the heavily armed Iran-backed Hezbollah of helping Houthi forces in Yemen and playing a role in a ballistic missile attack on the kingdom earlier this month. Iran and Hezbollah both denied the claims.
Jafari said Syria would have been disintegrated had it not been for mobilized popular forces' participation in the Arab country's fight against terrorist groups.
"If it had not been for mobilized popular forces' in Syria, it would have surely been partitioned", General Jafari told reporters in Tehran on Thursday.
He added that the eradication of the self-proclaimed caliphate of Daesh (ISIS) in Syria and Iraq has also materialized thanks to the presence of popular forces across the region.
"Daesh wanted to form a government in Syria and Iraq to fight the Islamic Revolution and the axis of resistance in the name of Islam," the Iranian commander said, adding, however, that this plot was thwarted with the help of the popular forces.
He further warned that Daesh is still a threat to the region, calling on Muslim countries to remain vigilant. He said that the victory over Daesh in Iraq and Syria should not be regarded as the total "annihilation" of the Takfiri group, warning that the terror outfit still poses a threat to the Muslim world and the region.
"This victory is not about the full elimination of Daesh, but the end of Daesh's rule.  Daesh exists in the forms of guerrilla and underground groups in various countries, including Afghanistan; therefore countering their conspiracies is on our agenda," Jafari said, announcing the county's readiness to counter the Takfiri group's future terrorist activities.
Backed by popular groups and Iranian military advisors, armed forces in Iraq and Syria have managed to flush Daesh militants out of their last urban strongholds in both countries, declaring full victory over the notorious terror group.
Jafari repeated Iran's stance on its disputed ballistic missile work, saying the Islamic Republic's missile program is for defensive purposes and not up for negotiation. The program was not part of the 2015 nuclear deal with Western powers under which Iran agreed to curb its nuclear program in exchange for the lifting of some sanctions.
"Iran will not negotiate its defensive program … there will be no talks about it. (French president Emmanuel) Macron's remarks over our missile work are because he is young and inexperienced," he said.
Macron said earlier this month that Tehran should be less aggressive in the region and should clarify the strategy around its ballistic missile program.