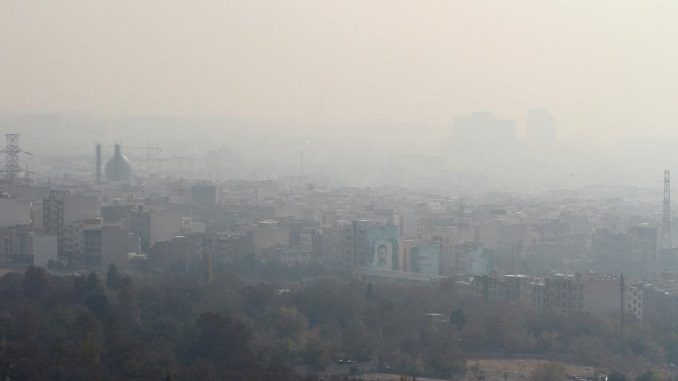 A member of Tehran city council has said that more than 20,000 Tehran residents die annually from air pollution, ABC News reports.
A Sunday report by the semi-official ILNA news agency quotes Majid Farahani as saying that the figure has more than doubled since 2005.
Air pollution in the city is the most dangerous in the country as a result of the millions of vehicles used in Tehran. Cars, motorbikes, old clunkers as well as heavy vehicles – mostly operating on diesel engines – continue to be used by millions across the capital city, causing prolonged traffic.
Tehran's poor infrastructure has limited the development of public transport, leaving many without an alternative means of transport. Additionally, petrol in the oil-producing country is also cheap – selling at about 35 cents a liter, making driving the best option for many.
Over the past few years, air pollution has on several occasions compelled Iranian authorities to close all schools and offices in the city.
In colder months, schools and nurseries can face days of closure as pollution becomes so acute, leaving many with respiratory problems. The cold weather leads to climate inversion – where emissions from car exhausts hang in the air rather than rising into the atmosphere above.
Authorities have taken measures to reduce the city's air pollution, which they blame on the use of millions of old-fashioned motorbikes and cars.
Last week, Tehran's traffic police issued a ban on high-emitting vehicles as well as vehicles which have not passed a recent inspection. High-emission public transport buses and taxis will also be seized and drivers may face fines if stopped by police.
In 2016, new measures were introduced to limit the number of vehicles used in the city by permitting cars to drive only every other day. Car number plates ending with an odd number are banned from the roads on Saturday, Monday, and Wednesday, while car number plates ending with an even number must refrain on Sunday, Tuesday, and Thursday.
Authorities have tried to reduce the city's air pollution by limiting the number of vehicles, blaming it on millions of old-fashioned motorbikes and cars stuck in prolonged traffic jams.