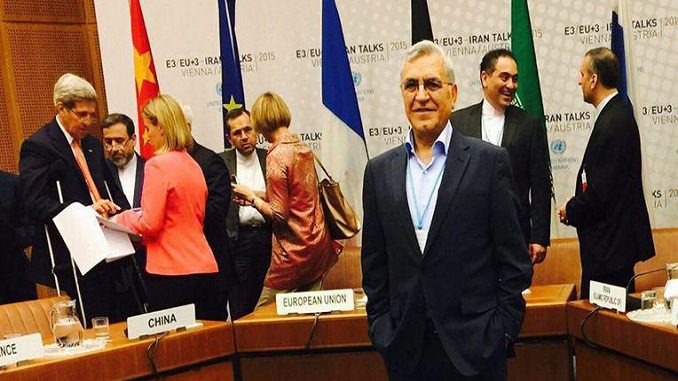 Iran's judiciary and Intelligence Ministry are quarreling over nuclear espionage within the Islamic Republic and the dispute between the two factions has been sparked by the judiciary's sentencing of Abdolrasoul Dorri Esfahani, a member of the team that negotiated the July 2015 nuclear agreement, to five years in prison.
The Intelligence Minister, Mahmoud Alavi, on Wednesday, October 11, had rejected accusations that a member of Iran's nuclear negotiating team, Abdolrasoul Dorri Esfahani, was a spy. Alavi had even said that Dorri Esfahani was collaborating with the counterespionage department of his ministry, while the Judiciary has sentenced him to five years in prison.
"The only professional reference for discernment of espionage activities in the Islamic Republic is the department of counterespionage run by the deputy of the intelligence minister," the minister had also claimed.
The Islamic Republic's judiciary affiliated news website, Mizan has dismissed the Intelligence Minister's assertion that his ministry is the only competent body to determine who is a spy. Based on quotations made by unnamed sources, Mizan has dismissed the claim that the Intelligence Ministry is the only authority responsible for cases related to espionage.
"The only competent authority to convict or acquit people accused of spying is the court of law. Based on a final verdict, Dorri Esfahani has been convicted and sentenced for espionage. There is no law stipulating that the Intelligence Ministry is the sole authority responsible for certifying or rejecting that an act of espionage has taken place, or who is guilty of spying, who is not," Mizan has reported.
Abdolrasoul Dorri Esfahani's saga began a year ago, when in August 2016 news outlets close to the Islamic Revolution Guards Corps, IRGC reported his arrest on suspicion of "selling the country's economic information to foreigners."
He was later granted bail, which is rare in Iran for those accused of serious crimes, and denied the allegations. But last Sunday the Judiciary announced his conviction on the same charges. While apparently unending saga of Dorri Esfahani is still going on, a conservative cleric MP, Mojtaba Zonnour disclosed on Thursday that two other members of Iran's nuclear negotiation team have also been accused of espionage and collaborating with foreign governments, Radio Farda reports.
Zonnour has not mentioned the name of the two or their position in Iran's nuclear negotiation team, but admitted: "One of the accused is living in Canada and the other has also fled Iran".
The Islamic Republic has multiple security and intelligence units. The Islamic Revolution Guards Corps, IRGC, has its own vast intelligence apparatus and often acts on its own to arrest people even for vague charges unrelated to national security. On the overall political line-up of forces, the IRGC is a close ally of Iran's Judiciary and both are under the Supreme Leader's control.