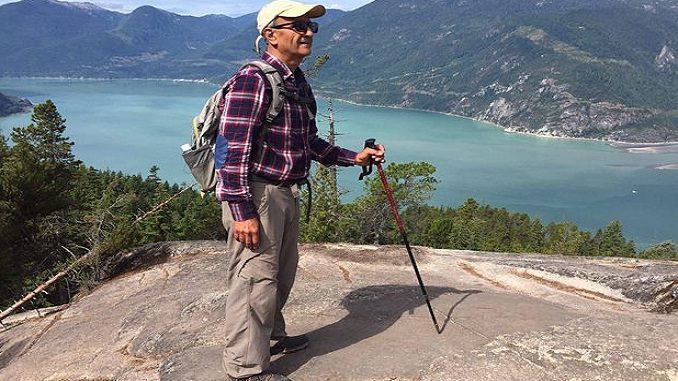 Canada is facing pressure to condemn Iran and demand an investigation after an Iranian-Canadian professor, who was a leading conservationist in the country, died in a Tehran prison some two weeks after his arrest on allegations of spying. The statement also said the Iranian government have conducted their own autopsy and have not yet informed the family of the results.
A leading human-rights organization says it is now up to Canada to demand an independent autopsy before Prof. Seyed-Emami's body is buried.
"If we don't hear much international protest in the next 48 hours, the Iranian government's going to literally get away with murder," Hadi Ghaemi, executive director of the New York-based Center for Human Rights in Iran, said in an interview on Sunday.
He said Canada has the ability to lead an international campaign to pressure Iran, possibly through the United Nations.
"[Canadian elected officials] have to take the lead internationally, demanding accountability and an investigation," he said. "They have a lot of legitimacy [with] all the other governments to be leading the international efforts and I hope they step up to the plate and do that."
Canada's influence in Iran is limited following the closing of its embassy in Tehran in 2012, the same year that Canada listed Iran as a state supporter of terrorism. Since then, Italy has represented Canada's interests in the country. Canadian diplomats in Turkey have assumed the lead role for gathering information related to Prof. Seyed-Emami's death.
Another challenge for Canada is that Iran does not recognize dual nationals. This was a persistent problem for Canada in 2003, when Iranian-Canadian photojournalist Zahra Kazemi was arrested, tortured and died in an Iranian prison.
Roland Paris, a former foreign policy adviser to Prime Minister Justin Trudeau who is now Research Chair in International Security and Governance at the University of Ottawa, said Canada should be asking for answers from Iran in this case.
"I think it would be reasonable for Canada to call on the Iranian authorities to explain the circumstances of this alleged suicide because there is a suspicious pattern of alleged suicides in Iranian prisons," he said.
In the run-up to the 2015 federal election, the Liberals promised to reopen the Canadian embassy in Tehran if elected. That has not materialized, though Canadian diplomats have visited the country over the past year.
The Canadian government said it was aware of reports about Professor Seyed-Emami.
"Canadian consular officials in Ankara are working to gather additional information and are providing assistance to the family of the Canadian citizen," Global Affairs Canada spokesperson Natasha Nystrom said in a statement.
Conservative foreign affairs critic Erin O'Toole said his party is very concerned about the professor's death and called on the Canadian government to be more forceful in its response.
"The government should be pushing for an inquiry into the detention and should demand to immediately participate in an autopsy and investigation of the death," he said.
Seyed-Emami is the second Iranian-Canadian dual national to die in prison in Iran. In July 2003, photographer Zahra (Ziba) Kazemi also died under suspicious circumstances while being interrogated in Evin Prison. Her case remains unsolved despite calls for justice by lawyers and Canadian officials.
The vice president at the time, Mohammad Ali Abtahi, stated she died from "a brain hemorrhage caused by a beating." The case overshadowed relations with Canada for years.
There are at least 12 dual and foreign nationals and foreign permanent residents currently being held in Iranian prisons. Iranian officials claimed Ghanbari (23) and Vahid Heydari (22)-both of whom died in custody after being arrested in the recent protests-were drug addicts. A week after his arrest, judicial officials claimed Ghanbari had committed suicide in the bathroom of Evin Prison's quarantine unit on January 6, 2018. His body was delivered to his family on January 9.
"This individual [Sina Ghanbari] who committed suicide was an addict," said Prosecutor General Mohammad Jafar Montazeri on January 11.
Heydari died in detention at the 12th Police Precinct in the city of Arak, Central Province, sometime between the end of December 2017 and the beginning of January 2018.
"This person [Vahid Heydari] had several criminal records for carrying drugs," claimed Central Province Prosecutor Abbas Ghassemi on January 10.
However, local activists and family members told CHRI that one of Heydari's relatives saw evidence of a severe blow to Heydari's skull before his body was buried. Heydari's family has been pressured to avoid speaking to the media.
An Iranian official in Tehran said more arrests were expected in connection with Seyed-Emami's organization. CHRI has learned that on the same day as Seyed-Emami's arrest, at least nine other staff members and executives of the Persian Heritage Wildlife Foundation were also taken into custody in Tehran, according to a relative of one of the detainees who asked not to be identified.
They included Niloufar Bayani, Morad Tahbaz (an Iranian-American dual national), Sepideh Kashani, Houman Jowkar and Taher Ghadirian. Security agents warned their families that if news of the arrests reached the media, the detainees would be treated more harshly.
"Since their arrest, there has been no phone contact and they have not had access to a lawyer. We really don't know what they are accused of," the informed relative added.