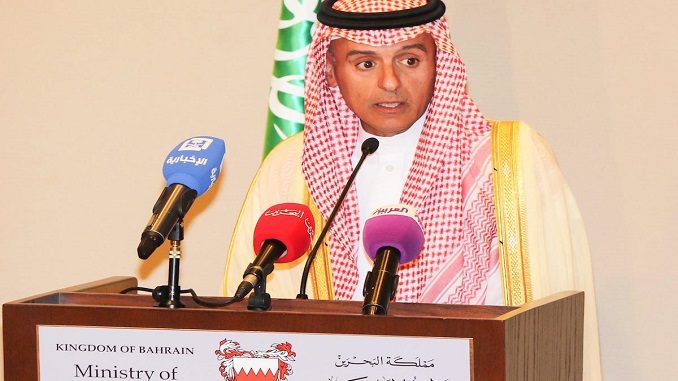 Saudi Foreign Minister Adel Al-Jubeir yesterday described the Iranian presence in Iraq as destructive, Middle East Monitor reports.
Speaking on the sidelines of the Kuwait International Conference for Reconstruction of Iraq, Al-Jubeir expressed hope that Baghdad, in cooperation with neighboring countries, can build a better future for its people. He warned of the emergence of terrorist organizations after Daesh was eliminated in Iraq and its influence has been curbed in Syria.
"Daesh was defeated in Iraq and will be defeated in Syria, but the organization is changing and moving to other areas," he warned.
The minister said there is a fear that the group will move to Libya where some of its members are currently stationed.The three-day conference in Kuwait raised $30 billion, far short of the $88 billion Iraq said it needed to rebuild after the damage caused by the three-year war with Daesh.
The Administrator of the United Nations Development Programme (UNDP), Achim Steiner, said that the conference could have raised more funds if Iraq didn't have such a bad reputation amongst investors of being the world's tenth most corrupt country.
Iranian Foreign Ministry Spokesman Bahram Qassemi has denounced the recent anti-Iran remarks by Saudi Foreign Minister Adel al-Jubeir made on the sidelines of the International Conference for Iraq's Reconstruction in Kuwait.
In a Thursday interview with the Fars News Agency, Qassemi said the Saudi minister "has forgotten that he is not in a position to speak for Iraq's government and nation."
He also said Jubeir's "claims are too absurd" to be replied once again and added, "the government and nation of Iraq and other realistic and astute states acknowledge the leading, stabilizing and critical role of Iran in the fight against Takfiri terrorism in the region and restoration of security to Iraq." The spokesman then expressed regret that "the Saudi minister has grown accustomed to babbling and making unconsidered and irresponsible remarks."
International donors pledged $30 billion to help rebuild Iraq after the war against the Islamic State group, Kuwait announced Wednesday, overcoming Western doubts and donor fatigue over Mideast crises to help the battle-ravaged nation.
While falling short of an estimated $88.2 billion needed to rebuild Iraq, it easily surpassed the $20 billion Iraqi officials initially said they needed to begin their difficult work. While much of the larger donations came in the form of loans, Iraq remains an oil-rich nation and such debts can be forgiven by the countries and institutions offering them.
Gulf states wary of Iran's growing power in the region, and specifically in Iraq, may see the financial support as a way to diminish that sway. During the three-and-half-year war with Islamic State, Iraq's Shi'ite-dominated government was buoyed by assistance from neighboring Iran, which sent powerful militias to join the fight against the Sunni jihadists.
"It is clear they want to gain greater influence and counter Iran as it faces increasing uncertainty and pushback in Iraq and the region," said Paul Sullivan, a Middle East specialist at Georgetown University in Washington. "It could prove to be a smart move depending on what they end up directing the money towards, and what the people and power in Iraq see this as."
Iranian Foreign Minister Mohammad Javad Zarif attended the meeting but skipped a group photograph held before. Later, he didn't give his nation's address without explanation.
The mainly Sunni Arab nations watched with anxiety as Iranian influence increased as power shifted from minority Sunnis to majority Shiites with the ouster of Iraqi dictator Saddam Hussein in 2003 in a U.S.-led invasion. Saudi Arabia intervened military in Yemen in 2015 to prevent the Iranian-backed Shiite Houthis from taking over the country.