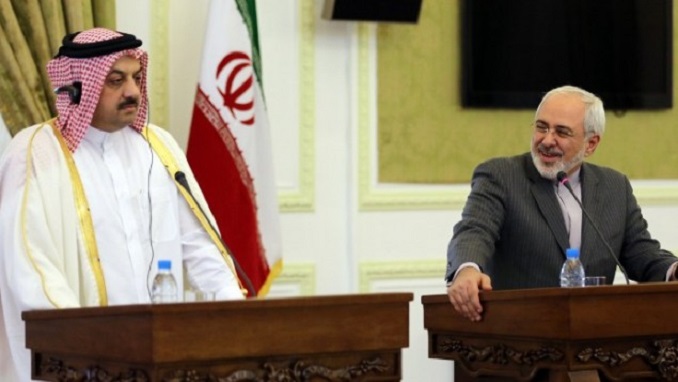 Qatar said Thursday it has restored diplomatic relations with Iran, marking a further break with Arab nations that have joined against Qatar for its links to Islamist groups and others perceived by U.S. allies as regional threats.
The decision ignores demands by Qatar's neighbors — led by Saudi Arabia — to limit ties with Tehran and threatens to deepen the region's worst diplomatic crisis in decades, which has complicated Washington's policies in the Middle East. Qatar hosts U.S. warplanes at a major air base and serves as a logistical hub for Pentagon operations.
"The State of Qatar expressed its aspiration to strengthen bilateral relations with the Islamic Republic of Iran in all fields," Qatar's foreign ministry said in a statement.
The brief statement made no mention of the tensions that have roiled the Persian Gulf since June when Saudi Arabia and three other Arab nations severed ties with Qatar. The Arab bloc shut down borders, airspace, and shipping lanes after accusing the tiny, energy-rich nation of backing terrorism for ties with groups such as Egypt's Muslim Brotherhood. Qatar has also come under pressure to close down the powerful pan-Arab broadcaster Al Jazeera, which is based in the Qatari capital, Doha.
Qatar has denied the allegations and has weathered the boycott, not least by turning to Iran and Turkey for economic and military assistance.
Qatar recalled its ambassador from Tehran in early 2016 to show solidarity with Saudi Arabia after protesters ransacked the kingdom's embassy in Tehran and a consulate in the city of Mashhad. The attacks were triggered by Riyadh's execution of a well-known Shi'ite Muslim cleric and prompted Saudi Arabia to sever ties with Iran after accusing it of failing to protect its missions.
One of the key demands to by the Saudi-led bloc — which includes Egypt, the United Arab Emirates, and Bahrain — to lift their economic and diplomatic sanctions is that Qatar restricts its ties with Iran. Saudi Arabia and other Sunni Arab nations fear the expansion of regional influence by Shi'ite power Iran in Syria and elsewhere.
On Wednesday night, Qatar's foreign minister spoke with his Iranian counterpart by telephone, discussing "bilateral relations and means of boosting and developing them as well as a number of issues of common concern," according to Qatar's foreign ministry.
Iran's Foreign Ministry welcomed Qatar's decision, calling it a "logical and positive move" toward normalization in a deeply divided region. Iranian Foreign Ministry spokesman Bahram Qassemi told Iran's official IRNA news agency that "the Qatari side expressed their interest in returning their ambassador to Tehran," according to a translation by the Iranian news site, Iran Front Page.
Iran is "ready to have better ties with all of its neighbors," Qassemi said. "What the region needs today is cooperation among all parties."
On Thursday, Iranian State television quoted Iran's foreign minister, Mohammad Javad Zarif, as saying they hoped to see the rift between Qatar and the Saudi-led bloc end soon.