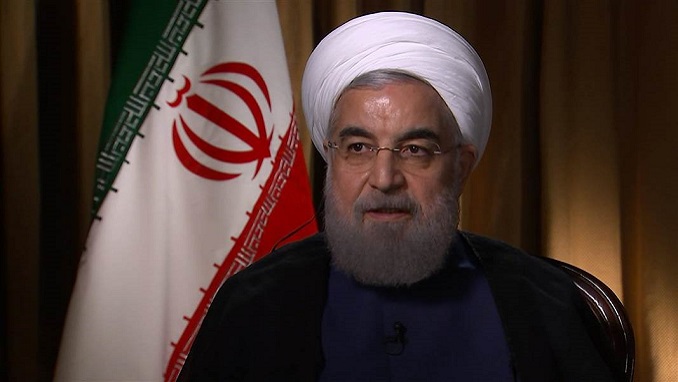 While Rouhani quotes ideas about tolerance and world peace, the regime carries on with its traditional chant of "death to America." Iranian President Hassan Rouhani recently made the bold threat that Iran could restart its nuclear program in a matter of "hours" if it chose to. The remarks are the latest iteration of the Iranian regime's good cop, bad cop routine.
When discussing the actions of Iran in general and the presidency of Hassan Rouhani in particular, it would be apt to reply with Jean-Baptiste Alphonse Karr's famous epigram, "the more things change, the more they stay the same." In the case of Rouhani, there has been much talk of change, but the regime has conducted business as usual inside Iran.
Rouhani's attempt to sell himself as a moderate stand in contrast with his foreign policy record. In fact, Rouhani's reign in Iran has been characterized by an aggressive regional foreign policy, as his regime has sent troops to Syria to prop up Dictator Bashar al-Assad, inflamed a civil war in Yemen, and played a divisive role in Iraqi politics. All of this has gone on while Iran shamelessly attempts to cast itself as the legitimate partner for peace, and as trustworthy in regards to the nuclear deal struck with former President Barack Obama.
And while Rouhani quotes ideas about tolerance and world peace, the regime carries on with its traditional chant of "Death to America."
Despite coming into power on the supposed promise of improving human rights, Rouhani has done the exact opposite. In fact, a report by UN Special Rapporteur on Human Rights Ahmad Shaheed noted that "the overall situation has worsened" with respect to human rights.
This includes a war against dissidents and ethnic and religious minorities. Rouhani has also carried out his policy of death and destruction at home, where the human rights situation is now worse than it has been in decades. Iran continues to be one of the worldwide leaders in execution, and according to Amnesty International was responsible for 66 percent of all recorded executions in the Middle East.
The world should pursue a policy which recognizes Rouhani's empty words and false promises for what they are, and which supports the Iranian people and their movements for real and fundamental change in Iran.
Part of the reason Rouhani has lashed out may be the fact that change has come with respect to Iran, namely in the form of a new policy approach. A senior delegation of U.S. Senators met with Iranian opposition leader Maryam Rajavi, in Albania on August 12, to discuss democratic change and human rights in Iran.
The Iranian regime is especially wary of the National Council of Resistance, the movement led by Rajavi. The NCRI is a leading voice for regime change in Iran and provides a comprehensive platform for the establishment of a democratic state.
The meeting between these U.S. Senators and Rajavi may be a sign that a new policy towards Iran will likely be met with the same old tactics and responses from the regime – namely threats, deception and double dealing. We should expect nothing less from the regime in Tehran, but a new policy which seeks to embrace the legitimate aspirations for change by Iran and its people is long overdue.