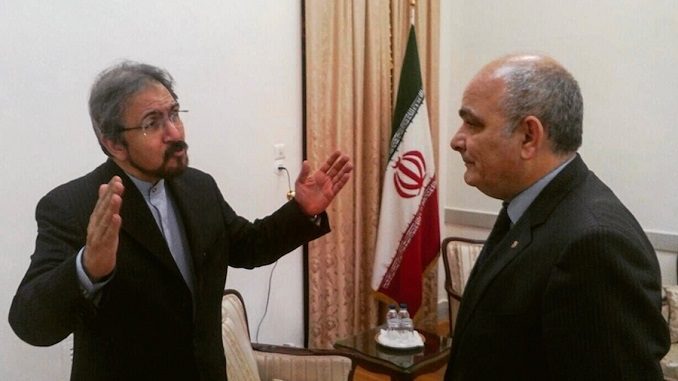 Russia's Ambassador to Iran, Levan Dzhagaryan, announced Sunday that his government offered some support so that the Middle Eastern country revamps the Fordow nuclear facility, located near the northern city of Qom, Mining reports.
In an interview with Russia's news agency TASS, Dzhagaryan said a delegation from the state-run nuclear agency Rosatom visited Iran and discussed "certain practical aspects of the project to reconfigure the Fordow reactor."
These recent Moscow-Tehran conversations are taking place within the framework of the Joint Comprehensive Plan of Action on Tehran's nuclear program, which was signed in Vienna in the summer of 2015 and involves Iran, Russia, the United States, China, the United Kingdom, France, and Germany.
According to the deal, the Persian nation should produce no weapons-grade plutonium and reduce its stockpiles of enriched uranium in return for the removal of international sanctions. After Iran implemented its obligations, former U.S. President Barack Obama lifted sanctions. However, following his announcement of a new strategy towards Iran, President Donald Trump refused to certify the agreement on January 13, 2018, and later on, said that Washington would withdraw from it unless the accord's "disastrous flaws" were fixed.
"The U.S. President's position is a cause for concern in both Tehran and Moscow. There are reasons to understand our European counterparts also worry about this, as they had applied much effort to reach the deal," the Russian ambassador told TASS.
As part of the plan, Iran also agreed to convert the Fordow facility into a technology and science center and to give inspectors from the International Atomic Energy Agency access to the site.
Previously this month, an Iranian nuclear official said a team of Russian specialists will visit the Fordow enrichment facility as part of a project on stable isotopes.  Behrouz Kamalvandi, who is the spokesman for the Atomic Energy Organization of Iran (AEOI), said on Thursday that Tehran and Moscow reached a deal on stable isotopes about a year ago. Different Iranian delegates traveled to Russia and Russian experts visited Iran, he added.
"Today, we are at the stage of installing some equipment and Russian experts will arrive in Iran on Sunday to begin the installation work," Kamalvandi said, noting that the project will probably begin on Sunday or the following day.
Director General of the International Atomic Energy Agency (IAEA) Yukiya Amano said last January that Iran had removed "excess centrifuges and infrastructure" from the Fordow enrichment facility in line with its commitments under the 2015 nuclear agreement.
Amano made the comment in a statement issued on the first anniversary of the implementation of the nuclear deal, known as the Joint Comprehensive Plan of Action (JCPOA), between Iran and the P5+1 group of countries.
Early in 2017, IAEA verified the removal of excess centrifuges and infrastructure from the plant. According to NPO Nuclear Threat Initiative, 1,044 gas centrifuges remain installed in one wing of the facility, with IR-1 cascades installed separately for stable isotope production.
Meanwhile, Moscow and Tehran are continuing talks on using national currencies in trade, according to Dzhagaryan. He told TASS that "central banks" working groups have met several times.
"As far as we can understand, negotiations are underway. We hope that in 2018 we shall achieve progress and will be able to use widely the favorable conditions we may have if we manage to approach final decisions," Dzhagaryan said.
Last year, during the visit of Iranian President Hassan Rouhani to Moscow, the two sides agreed to continue cooperation aimed at stabilizing the global energy market and ensuring sustainable economic development. They said they will be working on favorable conditions for using national currencies in settlements. Moscow and Tehran have also discussed developing inter-bank cooperation between the two countries and ensuring an increase in trade and investments.
Putin and Rouhani also focused on the potential creation of a free-trade zone between Iran and the Eurasian Economic Union, which consists of Russia, Belarus, Armenia, Kazakhstan, and Kyrgyzstan. Rouhani told journalists that such a trade zone could significantly improve the trade situation and "create new conditions" in regional trade.
In November, Iranian Supreme Leader Ali Khamenei said that the best way to beat U.S. sanctions against Iran and Russia is joint efforts to dump the American currency in bilateral trade. He told President Putin that by using methods such as eliminating the U.S. dollar and replacing it with national currencies in transactions between two or more parties, the sides could "isolate the Americans."