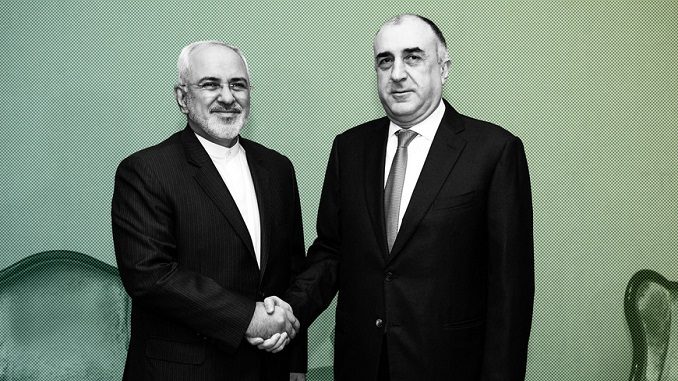 The collapse of the Soviet Union in 1991 was followed by the independence of several states in the Caucasus, including the Republic of Azerbaijan. While the newfound Azerbaijani state has not enjoyed warm ties with Iran, this trend appears to be changing as the two countries move closer to one another, Al-Monitor reports.
The absence of close ties between Tehran and Baku is believed to be rooted in several factors, the most important being Azerbaijan's preference for closer relations with Turkey rather than with Iran. In turn, the Islamic Republic has opted for warmer ties with Christian Armenia rather than with Shi'ite Azerbaijan.
The status of the mountainous region of Nagorno-Karabakh, which has long been the subject of an unresolved dispute between Azerbaijan and Armenia, is another factor that has impacted Baku's relations with other countries. While Azerbaijan counted on Iran's full support in the dispute, Tehran chose a milder approach and instead invited the disputing parties to engage in dialogue and find a peaceful solution to the crisis — a stance that seemed to be in favor of Armenia.
Nonetheless, there are strong foundations for close ties. For instance, considering that the territory of the Republic of Azerbaijan was once a part of Iran, there has long been a sense of closeness among its population and that of Iranian Azeris, and particularly in the Iranian provinces of East Azerbaijan and West Azerbaijan.
Tehran and Baku are both members of several regional and international organizations, including the Organization of Islamic Cooperation and the Economic Cooperation Organization; this is not to mention their participation in dialogues on the Caspian Sea.
All of this has played a key role in pushing the two nations toward warmer bilateral relations. In fact, a more serious line of dialogue was established between the two neighbors last year as talks over the future of the Caspian Sea became more intense, with various meetings being held over the issue.
However, one of Iran's major concerns regarding relations with Azerbaijan is the issue of Israel's presence in the country. Part of Israel's drone industry is reportedly located in Azerbaijan. On August 27, 2014, Iranian forces shot down an Israeli drone close to the Natanz nuclear facility in the center of Iran. Although Iranian officials said the drone had been launched from a neighboring state, they did not specify which. However, some reports alleged at the time that the drone had been launched from Azerbaijan.
In a December 2016 interview, Iran's then-Defense Minister Brigadier General Hossein Dehghan announced that an unmanned Israeli aircraft had in the previous year entered Iran through Azerbaijan and that Baku had received a warning from Tehran. It is unclear whether he was referring to the Natanz incident. Of note, Azerbaijan used these drones in its recent conflict with Armenia in April 2015.
"One of Iran's concerns regarding Israel's role in the Republic of Azerbaijan is that Tel Aviv wants to Lebanonize it under a 'new periphery doctrine.' This means that Tel Aviv intends to create a new periphery region and encircle Iran through its presence in the [Iraqi] Kurdistan Region and Azerbaijan. In addition, it can also gain a great deal of information about Iran by paying very little in return," Salar Seifoddini, a Tehran-based expert on Iran-Azerbaijan relations, told Al-Monitor.
"For example, many Iranian managers attend universities in Azerbaijan to get doctorates. This is while the Israelis have infiltrated the country's universities. Often, the topics proposed [to these Iranians] by the professors at Azerbaijan's universities are in the interests of Israel and are solely conducted for collecting data on Iran, regardless of their scientific value. Israel can later access this data without spending any money," Seifoddini said.
Issues to do with patriotism are among the other challenges standing in the way of warmer Iran-Azerbaijan relations. Baku has seemingly tried to provoke a sense of pan-Azeri patriotism among the Azeris in northwestern Iran over the years — and has been somewhat successful in doing so. Not all Iranian Azeris are in favor of this, as Iranian nationalism has been able to withstand Baku's efforts.
However, the impact of such endeavors on the hearts and minds of Iranian Azeris cannot be denied. Instances of Baku's success in this regard can be seen at sports stadiums and in the slogans that are chanted by the fans of soccer teams in the northwestern Iranian city of Tabriz.
"We do not intend to interfere in Iran's domestic affairs. At the same time [we] cannot disregard the future of the Azeris who reside in Iran," the head of the Center for Applied Politics at Baku's Western Caspian University, Elkhan Sahinoglu, told Azerbaijan's Yeni Musavat daily.
Recent meetings between the two countries' officials have nonetheless sparked speculation about the strengthening of bilateral ties. In addition to cooperating on delineating their portions of the Caspian Sea, Tehran has also become a more active player in resolving the Nagorno-Karabakh dispute, as Iran's Foreign Ministry and Foreign Minister Mohammad Javad Zarif have proposed initiatives that have been welcomed by the Republic of Azerbaijan.
All this has led to speculation about an improvement in ties between Tehran and Baku. Yet it would be foolish to think that warmer relations are only based on the advancement in the resolution of bilateral issues.
"Iran has no intention, nor sees an advantage in interfering in Azerbaijan's domestic affairs. For Tehran, it makes no difference what is going on in Azerbaijan domestically. Iran wants its relations with Azerbaijan to be just like with any other country. It wants to increase its exchange with that country in the field of economy and energy. This is something that is also very important for Azerbaijan because it is a country enclosed by land and to reach open waters, it needs Iran," Seifoddini told Al-Monitor.
Yet Seifoddini added that the Islamic Republic also has strong motivations to maintain close ties with its western neighbor and that not everyone in Baku is in favor of the latter.
"Global and regional actors such as the U.S., Turkey, and Israel also play prominent roles in the future of Tehran-Baku relations. This is not to mention that there are different groups within Azerbaijan itself that have no desire to improve Tehran-Baku ties," he noted.