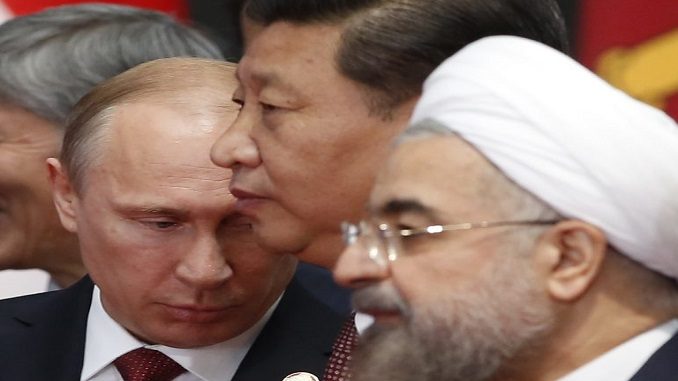 China and Russia have voiced concern after U.S. President Donald Trump said he would pull the United States out of the 2015 Iranian nuclear deal unless changes are made, The Iranian reports. Speaking on January 13, Russian Deputy Foreign Minister Sergei Ryabkov said Moscow was "alarmed" by the latest U.S. steps, adding that Russia believes "the U.S. has already made its internal decision" to withdraw from the agreement with Iran.
"This could be one of Washington's major foreign political mistakes, one of the major miscalculations of America's policy," Ryabkov said.
Russian Foreign Minister Sergei Lavrov also said on Monday Moscow will not support attempts by Washington to modify the Iran nuclear deal.
Echoing Russia's concern, China on January 13 reaffirmed its support for the deal. China on Saturday pledged to continue playing a constructive role in maintaining and implementing the Iran nuclear deal after U.S. President Donald Trump set an ultimatum to fix "disastrous flaws" in a deal.
Chinese Foreign Minister Wang Yi told Iranian Foreign Minister Mohammad Javad Zarif by phone that implementation of the deal had not been "derailed" but would face "some new complicating factors", the state news agency Xinhua reported.
"Continuing to implement the nuclear deal was the responsibility of all parties concerned and the common wish of the international community. The deal would help uphold the international non-proliferation regime, maintain regional peace and stability and solve "other hot issues" around the world," Wang was quoted as saying during the call, which took place on a visit to Rwanda.
He urged Iran to remain calm and continue to fulfill its obligations under the deal.
On January 12, Trump announced he would extend U.S. sanctions relief for Iran, as required under the deal in exchange for curbs on Iran's nuclear activities, but he intends to pull the United States out the agreement unless it is strengthened within months.
The president said that he was granting a waiver on U.S. sanctions for another 120 days for the "last" time to provide time to negotiate changes with European powers to strengthen the accord, particularly by making permanent curbs on Iran's nuclear activities that currently are scheduled to expire within 10 years.
Iran's top diplomat accused Trump of "maliciously violating" the deal.
"Trump's announcement is a "desperate attempt to undermine a solid multilateral agreement," Iranian Foreign Minister Mohammad Javad Zarif said on Twitter late on January 12, citing sections of the agreement that he said the United States is violating by demanding changes on matters already agreed to by Iran and the five other world powers that negotiated the deal.
The Trump administration on January 12 also announced new, targeted sanctions on 14 Iranian persons and organizations for "serious human rights abuses," censorship, and non-nuclear weapons issues, a Treasury Department spokesperson said.  The biggest name included in the new sanctions list was Sadeq Larijani, head of the Iranian judiciary and brother of Ali Larijani, who is speaker of the Iranian parliament. The Treasury said Larijani is "responsible for ordering, controlling, or otherwise directing, the commission of serious human rights abuses against persons in Iran or Iranian citizens or residents."
Under the new sanctions, any assets that the people or entities have within U.S. jurisdiction will be frozen and Americans will be barred from doing business with them.  Iran vowed on January 13 to retaliate against the sanctions on Larjani.
"The Trump regime's hostile action…crossed all red lines of conduct in the international community and is a violation of international law and will surely be answered by a serious reaction of the Islamic Republic," Iran's Foreign Ministry said in a statement carried by state media.
By imposing a deadline in May for the U.S. Congress and European powers to strengthen the nuclear accord, Trump's declaration puts considerable pressure on Britain, France, and Germany — the European signatories to the nuclear pact with Iran. Trump wants them to help the United States devise a new agreement designed to prevent Iran from escalating nuclear activity again next decade, as permitted under the 2015 arrangement reached by former President Barack Obama.
Since Iran has repeatedly spurned any effort to renegotiate the accord, one alternative suggested by Trump administration officials would be to reach an agreement with the European allies to reimpose Western sanctions on Iran if it restarts efforts to develop nuclear weapons after curbs on its activities expire under the nuclear deal.
"I have been very clear about my opinion of that deal," Trump said in his January 12 statement. "It gave Iran far too much in exchange for far too little."
Iran has said its nuclear program is strictly for peaceful uses. It has said it will abide by the agreement as long as other signatories do but warned that it would "shred" the deal should Washington pull out. European signatories to the deal have pressured the United States to stick to the accord. They did not immediately react to Trump's demand on January 12 that they help come up with a stronger agreement.
The German Foreign Ministry said Berlin will consult with European partners on a common way forward after Trump's declarations, but that the country "will continue to campaign for the full implementation of the nuclear agreement."
Besides eliminating the so-called sunset clauses in the nuclear deal, Trump is also demanding that Iran allow more timely inspections of sites requested by the International Atomic Energy Agency. In addition, he wants the deal to state that Iran's nuclear effort and its missile programs are inseparable. The U.S. and other officials have complained that Iran's ballistic-missile program can easily be converted for nuclear use.